Twins get good report on prospect Meyer
Twins get good report on prospect Meyer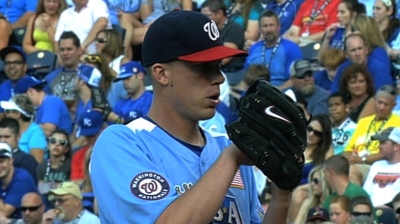 OAKLAND -- Alex Meyer, Minnesota's No. 3 prospect, made his second instructional league appearance on Saturday.
Twins general manager Terry Ryan liked the latest report on Meyer, who missed nearly three months of the Minor League season due to an injured throwing shoulder. The 23-year-old right-hander had returned to Double-A New Britain for two starts in late August.
"I'm not a huge velocity guy, but he's running it up there pretty good," Ryan said before the Twins-A's game at O.co Coliseum. "The best thing I can tell you is he's starting to use his changeup.
"That's one of the things we tried to emphasize in the short amount of time we had him on the mound this spring. If he wants to be one of those big-time starters -- if he can develop that change -- he has a chance to be [one], because he's got the fastball and he's got the curve. And he's got the change -- all we got to do is make sure we polish it up."
Ryan said the Twins don't keep statistics of instructional league games, even internally. The numbers, in this case anyway, don't matter.
"He threw well," Ryan said. "More importantly, he's 100 percent.
"You can't get too excited about results in instructional league. I will be more attentive to what goes on statistically out there in the Arizona Fall League."
Meyer is one of seven Twins farmhands heading to Arizona. That group is led by the organization's No. 1 prospect, outfielder Byron Buxton.
The 6-foot-9 Meyer compiled a 3.21 ERA in 13 starts for New Britain this season, his first since Minnesota acquired him from Washington for outfielder Denard Span last November. Employing mainly his fastball and power slider, he struck out 84 batters in 70 innings.
Andrew Pentis is a contributor to MLB.com. This story was not subject to the approval of Major League Baseball or its clubs.