Tribe maintains WC grasp behind Kazmir's 10 K's
Tribe maintains WC grasp behind Kazmir's 10 K's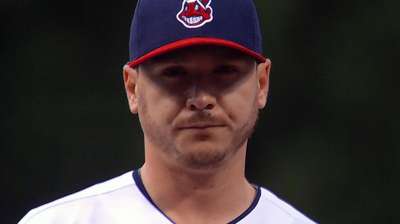 CLEVELAND -- The warm weather of summer is making way for autumn's cool breezes. At Progressive Field on Saturday, there were more jackets and sweatshirts in the stands than tank tops and T-shirts.
October will soon be here. When it arrives, the Indians hope to have baseball games still to play.
After moving into the second American League Wild Card position on Friday, the Indians maintained their grasp of that precious seat on Saturday. For the third day in a row, Cleveland took care of the visiting Astros, capitalizing on a strong outing from left-hander Scott Kazmir and winning a 4-1 game in front of a home crowd that's growing more excited by the prospect of postseason baseball with each new day.
"Little chill in the air. Place was going nuts," said Nick Swisher, who personally provided postgame fireworks for the folks who came out to Progressive Field. "It kind of seemed like every hit was like the most important thing ever. I mean, it was just so great to be out there tonight in that atmosphere, man."
The Tribe -- which has won eight of 10 and 13 of 18 -- has seven games left on its schedule, seven games to try to motor past Tampa Bay in the standings and make sure the AL Wild Card game is played in Cleveland. The Rays won on Saturday as well, remaining a half-game ahead of the Indians.
Of course, there is also the possibility that Cleveland could go the other way during its next seven games. The Rangers (who are just a half-game out of the second spot), Orioles, Royals and Yankees are all within striking distance, meaning a Tribe misstep could have devastating consequences.
But right now, the Indians (85-70) possess a postseason invitation. It's theirs to lose.
"We just know we need to handle our business on the field," Michael Brantley said. "If we handle our business on the field, we don't have to look at the scoreboard. That's what we continue to do, and that's what we're going to do."
Kazmir's impressive effort paved the way for Cleveland's latest victory, along with a three-run outburst from his pals in the lineup during the opening frame.
Sporting long sleeves under his jersey, Kazmir (9-9) allowed four hits over seven-plus scoreless innings. He finished with 10 strikeouts, while issuing just one free pass. After yielding a leadoff double to start the eighth, he was replaced by Cody Allen, who stranded the runner.
"As close as we are right now, we can almost taste it," said Kazmir, who left to a standing ovation. "So we want to go out there every game and give it everything we got."
For the 20th time of his career and third time this season, Kazmir reached double-digit strikeouts. He hadn't punched out 10 or more hitters on three occasions in one season since 2007. The last time he had at least 10 strikeouts and seven shutout innings in one start was Sept. 10, 2007. Before Saturday, no Indians pitcher had accomplished that feat since CC Sabathia did so on June 27, 2008.
"Knowing Kaz, the bigger the game, he's not going to shy away from that," Indians manager Terry Francona said.
Kazmir quickly got through the top of the first, needing just seven pitches to retire the side. Then, Michael Bourn doubled and Swisher singled to start the bottom of the inning. Bourn came home on a sacrifice fly by Jason Kipnis, and after Carlos Santana made an out, Brantley stepped to the dish and slugged a two-run homer to right field.
The roundtripper was Brantley's ninth of the season and first since Aug. 9. It traveled 390 feet.
"We got off to a quick early lead," Kazmir said, "and I just wanted to go out there and attack the strike zone to get some quick outs to get us back in there."
Cleveland added a run in the fourth, which began with Yan Gomes' double down the left-field line. On the next pitch, Lonnie Chisenhall yanked an RBI single into right.
All four of those runs were charged to Houston right-hander Paul Clemens. Clemens (4-6) gave up eight hits in 4 2/3 innings, with three walks and four strikeouts.
Houston got its run in the ninth inning, when Chris Carter homered to center field off Joe Smith, who got the game's final three outs.
The Astros (51-104) have dropped eight in a row. They won't be part of the 2013 postseason, but the Indians could be.
The changing of the seasons from year to year is inevitable. Opportunities such as this one are not.
"This is where you want to be in September," Kazmir said. "Everyone is having fun. This is a great atmosphere."
Mark Emery is an associate reporter for MLB.com. This story was not subject to the approval of Major League Baseball or its clubs.