Astros stifled by Kazmir in defeat to Indians
Astros stifled by Kazmir in defeat to Indians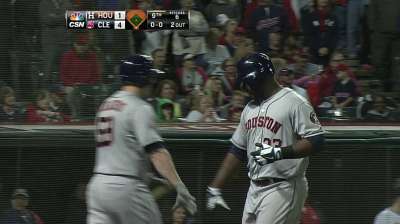 CLEVELAND -- The Astros entered the final two weeks of the season excited about the fact their remaining schedule was filled with playoff contenders. Suddenly, a team that hadn't had much to play for was looking forward to spoiling somebody else's fun.
So far, the Astros have served as nothing more than a speed bump for the Reds, who swept three games in Houston earlier this week, and now the Indians, who won their third consecutive game over the Astros, 4-1, on Saturday night at Progressive Field.
The Astros, although they've been competitive at times, have lost a season-high eight consecutive games heading into Sunday's series finale. They close out their road schedule with a three-game series against the Rangers in Arlington beginning Monday.
"It's tough," Astros manager Bo Porter said. "You look at our schedule and what we had remaining, and we were definitely excited coming into the back end of this season knowing that we were fighting teams that were fighting for their playoff lives. Frankly put, we just haven't played well. We haven't swung the bats well, and conversely, it's cost us some ballgames."
The Astros couldn't point their fingers at any mistakes they made on the bases or look back and lament any missed opportunities with men on base. This was a night where all the credit went to the opposing dugout.
Indians left-hander Scott Kazmir, who grew up in the Houston area, dominated the Astros by striking out 10 batters and allowing only four hits in seven scoreless innings. It was the 20th time in his career he has reached double-digit strikeouts, including three times this year.
"Kazmir had good stuff today," said Astros first baseman Chris Carter, who went 3-for-4 and socked his 28th homer of the year in the ninth inning to avoid a shutout. "He was throwing fastballs in, cutters in, changeups away. He pretty much kept everybody off-balance."
Kazmir (9-9) is the third Indians pitcher this year to reach 150 strikeouts, which is a franchise record.
"We got off to a quick early lead, and I just wanted to go out there and attack the strike zone to get some quick outs to get us back in there," Kazmir said.
The Indians jumped on Astros starter Paul Clemens for three runs in the first inning. Michael Bourn led off with a double and scored on a sacrifice fly by Jason Kipnis, and Michael Brantley hit a two-run homer to make it 3-0.
"Anytime you give up a three-spot in the first inning, you're going to be fighting a battle the rest of the night," Clemens said. "Seeing Kip, [Nick] Swisher, those guys in the second inning for the second time, it's going to make for a long night and it's going to make for a battle. I just tried to go out there and keep my team as close as possible and give my team a chance."
Clemens pitched out of a bases-loaded jam in the second and had retired six in a row before Yan Gomes doubled to lead off the fourth and scored on a single by Lonnie Chisenhall. Porter said he would like to see Clemens' tempo improve.
"It's something we talked to him about," Porter said. "We talked to the catchers about getting him on the mound and getting him going with a better tempo. I'm sure he'll make that adjustment."
Kazmir sent down 11 batters in a row after Jonathan Villar led off the game with a single and struck out the side in the sixth inning. He whiffed the final two batters he faced in the seventh and was pulled after giving up a leadoff double to L.J. Hoes in the eighth.
"Right out of the chute, power to his fastball," Indians manager Terry Francona said. "Actually had a little bit of a cutter with it, like, working in. And then he threw some real good changeups behind it. So he had a mix going of power to the fastball with a good changeup, and that was really effective."
Clemens (4-6) was pulled after he hit Gomes with a pitch with two outs in the fifth inning, with Lucas Harrell taking over in relief. Harrell got Chisenhall to hit into a 2-3 double play with the bases loaded to end the seventh inning.
"Sometimes I need to slow things down for myself and really gather myself, and collect my thoughts and do the things I want to do out there, the things I want to execute," Clemens said. "On that front, I'm never going to rush into a pitch without having full conviction in it. A couple of times, I chose the wrong pitch."
Harrell gave the Astros a lift by throwing 3 1/3 scoreless innings in relief.
"It's one of those things when you're out of the bullpen, it's still a pretty close game," Harrell said. "It's 4-0. I came in and just tried to get people out. Today was just another day when I felt like my sinker is getting better and better more like it was last year. I'm just trying to get ground balls and continue to get people out."
Brian McTaggart is a reporter for MLB.com and writes an MLBlog, Tag's Lines. Follow @brianmctaggart on Twitter. This story was not subject to the approval of Major League Baseball or its clubs.