Burnett sets stage, Grilli closes curtain on Reds
Burnett sets stage, Grilli closes curtain on Reds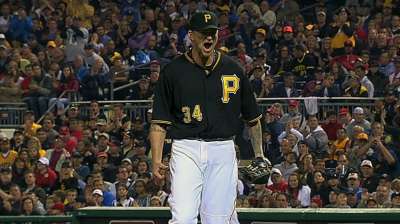 PITTSBURGH -- Call it Torture Squared. The 2010 San Francisco Giants' run to the World Series championship was subtitled "Torture" because of tightrope wins that drained their fans.
The Pirates are like that, with the added element of often clawing their way back to the edge of the cliff after having already fallen off it. Torture Squared.
The Bucs also squared their series with the Reds on Saturday night, following Friday's nightmarish 10-inning loss with a 4-2 win that featured an opportunistic offense and the tenacious pitching of A.J. Burnett and Jason Grilli, from start to close.
Indeed, the Grill Cheese was back on the Pirates' end-game menu. After Grilli entered to wild cheers in the ninth to earn his first save since July 21, manager Clint Hurdle admitted he might have waited too long to reinstall him as the closer.
But it was still in time to help the Pirates pull a game ahead of the Reds for the National League Wild Card lead and remain two games behind first-place St. Louis in the NL Central.
"I'm just a competitor -- I want the ball, don't care if it's the first or ninth inning," Grilli said. "A big win for us, obviously, and it was a lot of fun to be out there. If you don't like that ... you don't like Christmas."
Ryan Ludwick, the first batter Grilli faced, fought off an excellent breaking pitch on the outside black of the plate and lined it to left for a single. Everyone in the sellout crowd of 39,425 appeared to read off the same "Ohhhh" cue card, dreading a rerun.
Jay Bruce bounced to second baseman Neil Walker, who started a double play. Zack Cozart sent a two-out grounder to shortstop Clint Barmes -- oh, sweet irony, shortstop Jordy Mercer's two-out throwing error having led to Friday night's giveaway -- who nailed him for the 27th out.
"He seized the moment," Hurdle said of Grilli. "To come back there and get the ground balls ... that's where Jason lives. Could it have been earlier? Probably. That one's on me. But I wanted to make sure we gave him the weapons to go out there. He's an adrenaline guy, and we're an adrenaline team."
"That's what he is ... he is our closer," Burnett said. "Mark [Melancon] has done a great job, so we actually have two closers. But to see Cheese come in and do that ... watching on TV in here, I got goose bumps, and I'm getting goose bumps again talking about it."
Burnett raised a lot of those goose bumps himself. He put his foot down once the Bucs extricated him from an early 2-0 hole, and retired 18 of the last 19 men he faced in pitching four-hit ball for seven innings. He walked three and struck out 12, a personal four-year high which included his 200th of this season.
"He was just awesome, really gave us the start we needed," said his catcher, Russell Martin, who got his batterymate out of that early hole with a two-run homer in the second off Homer Bailey. "His intensity was high, his execution was excellent. He just kept us in the game, and was dominating."
Unlike Friday night, when the Pirates cruised with a three-run lead into two final turbulent innings, this game followed a more classic baseball pattern: After both teams got in a couple of early licks, the tension mounted inning after scoreless inning from Bailey and Burnett.
And, in Burnett's case, strikeout after strikeout. He had two milestone whiffs in the sixth: Joey Votto, for his 200th of the season, and another lefty hitter, Bruce, for his 10th of the game.
"It was probably one of the better times I've seen him. He's tough on the left-handers because he does two things that left-handers don't particularly handle well," Votto said. "He has a two-seam fastball that starts at your hip and ends up inside. And he throws a down-and-in slider-curveball that he really had on tonight. They seemed to be really located well. I had trouble with it. "
Burnett became the first Pittsburgh pitcher since Oliver Perez in 2004 to post 200 whiffs. He also became the first Pirates right-hander ever at that plateau (the previous record for a righty had been Kris Benson's 184 in 2000). And the 12 surpassed his previous season single-game high of 10, achieved on Opening Day.
"Yeah, there's some pride there, especially since I missed a few starts," Burnett said of reaching 200 strikeouts for the first time since 2008, when he still wore a Toronto uniform. "But I can't do it without the guy behind the plate. It was big for him to come up with the big knock tonight, too."
It was also big of Martin to tell Burnett when to lock the door to first base.
"After he gave up the second run, I told him in the dugout, 'That's all we give up today.'"
Burnett's response?
"Yessir."
"A couple of runs weren't the end of the world for him. He could still grind," Martin said. "And that's what he did. He dominated."
Just as they had done in Friday night's series opener, the Reds jumped into a 1-0 lead in the first on Ludwick's RBI single. Cozart's leadoff, first-pitch homer in the second, his 12th, made it 2-0.
Martin got the Pirates even in the second by following Votto's muff of Pedro Alvarez's two-out grounder with his 15th homer.
Martin's home run brought both the crowd and Burnett to life. From that point on, Burnett retired 10 straight and pitched hitless ball for the remainder of his seven-inning stint, retiring 15 of 16, only a sixth-inning walk of Ludwick interrupting the fabulous monotony.
"Once we got the game back at 2," Hurdle said, "he got after it. He made some excellent, excellent pitches, especially through the middle of the order. He just pitched his backside off."
The Pirates broke the 2-2 tie and the tension in the sixth, again taking advantage of a Cincinnati miscue. Andrew McCutchen drew a one-out walk and concerned Bailey enough to draw a wild pickoff throw that ushered him to third. Following another walk of Justin Morneau, Marlon Byrd scored McCutchen on a sacrifice fly deep enough for Morneau to take second -- from where he scored on Alvarez's single off lefty reliever Zach Duke.
Tom Singer is a reporter for MLB.com and writes an MLBlog Change for a Nickel. He can also be found on Twitter @Tom_Singer. This story was not subject to the approval of Major League Baseball or its clubs.