Reds take step back in standings in loss to Pirates
Reds take step back in standings in loss to Pirates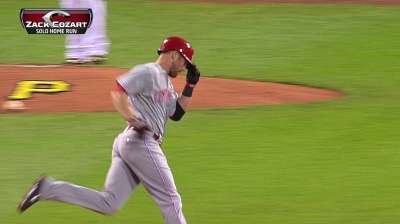 PITTSBURGH -- Reds manager Dusty Baker often champions the saying that a team's momentum is in the hands of that day's pitcher. Well, it can work the other way, too.
The Reds' recent momentum was stopped cold Saturday night by the curveball of the other team's pitcher -- Pirates starter A.J. Burnett. The right-hander had 12 strikeouts, including his 200th of the season, over seven innings. But he was also given help from Cincinnati's self-inflicted mistakes that combined to bring a 4-2 loss vs. Pittsburgh at PNC Park.
"The story of the game is we didn't score a bunch of runs," Baker said. "We made some errors, walked some guys at the wrong time and hit into double plays. We just couldn't get anything going tonight."
After taking a 2-0 lead through two innings, the Reds were unable to double-down on inflicting more heartache on the Pirates after Friday's thrilling 10-inning win. Cincinnati saw its four-game winning streak snapped. This was a costly loss toward the final playoff push.
Besides dropping back to third place and one game back of the second-place Pirates (89-66), who own the Wild Card lead, the Reds (88-67) fell to three games behind the first-place Cardinals, who beat the Brewers on Saturday, in the National League Central.
A two-out error in the ninth inning by the Pirates opened the door for the Reds' victory Friday. Cincinnati's errors much earlier in Saturday's game did likewise for Pittsburgh.
It was a 2-2 game in the sixth inning, when Pittsburgh used a walk and error by Bailey as a catalyst to move ahead. Bailey walked Andrew McCutchen with one out and made two pickoff throws to first base with a 2-0 count. The second one was slightly wide of first base and kissed off of Joey Votto's glove. McCutchen went all the way to third base on an error charged to Bailey.
"All I know is I think that loss is on me," Bailey said. "The throwing error at first, not executing a couple of pitches tonight, I think I feel more responsible than anybody. They gave me the runs early that I needed. I just did a poor job of pitching."
Justin Morneau walked on four pitches before Marlon Byrd's sacrifice fly to the warning track in right-center field easily scored McCutchen with the go-ahead run. Bailey was lifted in favor of lefty Zach Duke, who gave up an RBI single to his only batter, Pedro Alvarez, that stretched Cincinnati's deficit to two runs.
Two of the four runs on Bailey's line were unearned over 5 2/3 innings, with only three hits allowed. But like his previous start at Milwaukee last Saturday, he tied a season high with four walks, while striking out three. He entered the night 5-0 with a 1.40 ERA in six career starts at PNC Park.
"I had too many walks. That's completely unacceptable," Bailey said.
Like in Friday's series opener, the Reds took the lead first in the top of the first. After Burnett allowed a one-out single and a walk, Ryan Ludwick lined an RBI single through shortstop Clint Barmes' glove. In the top of the second, on a first pitch, Zack Cozart lifted a leadoff home run into the left-field seats for a 2-0 lead.
Burnett would allow only one more hit the rest of the night -- Votto's third-inning single -- as he retired 17 of his final 20 batters after the homer. His breaking ball seemed to baffle the Reds as he made heavy use of the offspeed stuff.
"He had a heck of a curveball," Baker said. "Usually left-handers hit him pretty good. That's why I tried to stack the lineup with lefties. He handled our lefties so well, they might as well have been righties today. It shows you what kind of curveball he had."
The Reds' only other hit in the game came on Ludwick's leadoff single vs. re-installed Pirates closer Jason Grilli. Ludwick was erased in a double play, and Grilli notched his first save since July 21, against the Reds.
An early turning point also came in the bottom of the second after Bailey notched a double play from Byrd. Next was Alvarez, who bounced a routine grounder toward first base. As Bailey covered first base, Votto booted the ball for an error -- his 14th and the most among Major League first basemen.
"It was as much of an error as there could be," Votto said.
How quick the mistake would compound as Russell Martin hit the next pitch, a mistake fastball over the middle of the plate, for a two-run homer to left field that made it a 2-2 game.
"I made the error and Homer gave up the home run, which seemed to, I suppose, swing the momentum a little bit," Votto said.
Although Bailey was taking all the blame, it could be spread around.
"It was a well-pitched game by both sides, not a lot of room for error," Pirates manager Clint Hurdle said.
As far as the Reds were probably concerned, no truer statement could be uttered.
Mark Sheldon is a reporter for MLB.com. Read his blog, Mark My Word, and follow him on Twitter @m_sheldon. This story was not subject to the approval of Major League Baseball or its clubs.