Arcia has room to improve in outfield
Arcia has room to improve in outfield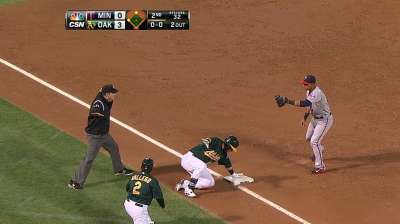 OAKLAND -- When Twins manager Ron Gardenhire sees Oswaldo Arcia in right field, he sees a talented player who is still learning his position.
That was the case when Gardenhire saw Arcia circle Daric Barton's hit in the second inning of Friday's game against the A's, then pick up his head as he attempted to field the ball. To Gardenhire's eye, Arcia was already thinking about showing off his strong arm. Barton reached third and Josh Reddick scored on the play.
"It's a double, and the guy's not going to score if we just catch it," Gardenhire said Saturday morning. "That's understanding that we're not throwing anybody out there. All we have to do is catch the ball and get it back into the infield. Thinking too much."
The error was Arcia's second in 93 games.
"He can play left. He can play right. He's got things to learn on," Gardenhire said of the 22-year-old Venezuela native. "There's times where he's moving really good and other times where he looks a little sluggish.
"I have a left fielder in [Josh] Willingham. That's why we'd like to see him in right."
While Garcia was slated to play left on Saturday, Friday night's defensive effort was an anomaly. Earlier in the second inning, he lost a ball off Derek Norris' bat in the lights at O.co Coliseum. Norris reached second with a double.
"That happens in some of these ballparks. The other [play] could have been handled a lot better," Gardenhire said. "The biggest thing with outfielders is not rushing."
Andrew Pentis is a contributor to MLB.com. This story was not subject to the approval of Major League Baseball or its clubs.