Gardy wants young arms to work on offspeed pitches
Gardy wants young arms to work on offspeed pitches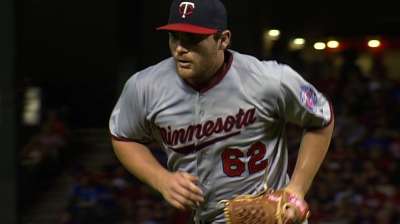 OAKLAND -- With eight games remaining on their schedule after Saturday, the Twins are running out of opportunities for their young starters to show their stuff. Manager Ron Gardenhire wants to see the group do one thing in particular down the stretch: throw curveballs and sliders with confidence and consistency.
"That's important for all of our young pitchers, to use it," Gardenhire said. "That's the most important thing for a pitcher to understand: You have to spin the ball, you have to work on these pitches, or they're not going to get better. The only way to do that is to get into the game and use 'em.
"The miles between [Triple-A] Rochester and Minnesota, breaking balls aren't making the trip."
That is especially the case for Saturday starter Pedro Hernandez and right-hander Liam Hendriks, who is the first candidate should Minnesota need a spot starter the rest of the way, the skipper said.
"His last outing he had a lively fastball, but that's not the pitch, though, we need him to control," Gardenhire said of Hendriks' start on Monday, in which he was charged with seven runs in two-thirds of an inning.
The skipper said Hendriks threw about 15 sliders straight down into the dirt, causing debate on the bench over whether the pitches were breaking balls or changeups.
"It was nothing. It looked like a changeup going straight down," Gardenhire said. "That's a mechanical thing, and he wasn't able to make an adjustment. He's got to be able to use all of his pitches. Up here, he hasn't. Down there [in Rochester], he has."
Andrew Pentis is a contributor to MLB.com. This story was not subject to the approval of Major League Baseball or its clubs.