Heyward gets breather after successful return
Heyward gets breather after successful return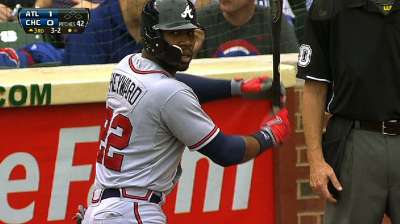 CHICAGO -- Jason Heyward returned to Wrigley Field on Saturday encouraged by the way his legs responded after he played his first game in nearly a month.
Heyward handled the center field duties while playing five innings and recording three plate appearances in Friday's win over the Cubs. This marked the first game action he had seen since his jaw was fractured on Aug. 21.
Wanting to protect Heyward's legs much like he would during the early days of Spring Training, manager Fredi Gonzalez stuck to his plan to limit Heyward to a potential pinch-hit appearance on Saturday; in the bottom of the eighth inning, Heyward entered the game to play right field and did not get an at-bat in the Braves' 3-1 loss. The 24-year-old outfielder should be back in the starting lineup to play five or six innings of Sunday's series finale against the Cubs.
The hope is that Heyward will gradually increase his endurance while playing in most of the remaining eight games the Braves have leading into the postseason.
"The more at-bats and the more pitches he sees, the better he's going to be," Gonzalez said. "You can run 100 sprints, but nothing duplicates standing in the outfield for five or nine innings."
Mark Bowman is a reporter for MLB.com. This story was not subject to the approval of Major League Baseball or its clubs.