Willingham out of lineup, available off bench
Willingham out of lineup, available off bench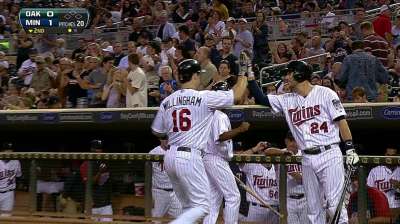 OAKLAND -- Veteran slugger Josh Willingham was out of the Twins' starting lineup on Saturday with a sore left foot but was deemed available off the bench. Manager Ron Gardenhire said he had already decided to play the versatile Chris Parmelee in the outfield against the A's anyway.
Parmelee had a rough Friday night in the field while playing first base. His inability to corral third baseman Eduardo Escobar's low throw with two outs in the fifth inning allowed three runs to score.
"Rather have him knock it down," Gardenhire said. "He knows how to catch the ball, but there's been some funny plays over there.
"Maybe it's because he's been bouncing back and forth," Gardenhire added of Parmelee's playing time between first base and right field, "but he's been in the wrong place on some relays [at first]."
Rookie Oswaldo Arcia assumed Willingham's slot in left field. Willingham's bat would be handy in a pinch-hitting situation. Since 2012, he has hit .396 (19-for-48) with seven home runs and 17 RBIs in 14 games versus his former club.
Andrew Pentis is a contributor to MLB.com. This story was not subject to the approval of Major League Baseball or its clubs.