Cubs rally late, push back Braves' clincher
Cubs rally late, push back Braves' clincher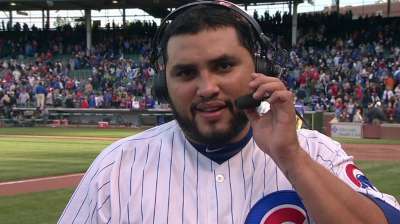 CHICAGO -- The Cubs couldn't beat the Braves after erasing a four-run deficit in the series opener Friday, but they came from behind again on Saturday, this time finishing the job and delaying a National League East title for Atlanta.
Travis Wood tossed seven-plus strong innings, allowing one run on five hits, and the Cubs rallied for three runs in the eighth inning to defeat Atlanta, 3-1, at Wrigley Field.
Trailing, 1-0, in the bottom of the eighth, Starlin Castro singled with one out to chase Braves starter Kris Medlen from the game. Pinch-hitter Donnie Murphy followed with another single off reliever Scott Downs, and Anthony Rizzo doubled home Castro to tie the game at 1.
"[Downs] made really good pitches the entire at-bat," Rizzo said. "Fortunately enough, I got good wood on it, and it stayed fair."
"[Downs] made a good pitch," Braves catcher Gerald Laird said. "Rizzo just put a good swing on it and it fell right inside the line by a foot. That is a good young hitter over there. He didn't try to do too much with it. He just tried to put a good swing on it, and he found a hole."
Dioner Navarro stroked an RBI single to right against reliever David Carpenter to score Murphy and put the Cubs ahead, 2-1. Nate Schierholtz followed with a sacrifice fly to bring in Rizzo and make it 3-1.
"It's always exciting [to play in a game like that]," Navarro said. "Obviously everybody knows Atlanta's about to clinch, and Woody pitched a great game … and Medlen was dealing, too. … We caught a break in the eighth and we didn't quit."
"We played them and battled back [Friday] and tied it up and got to the ninth in a tie ballgame, and obviously [Atlanta] came back again," Cubs manager Dale Sveum said. "So I'm proud of the guys for coming back [Saturday] and battling and not quitting."
Wood turned in his 24th quality start in 31 outings this season, walking four and striking out seven. His 24 quality starts are tied for fourth most in the Majors behind Clayton Kershaw, Adam Wainwright and James Shields, who each have 25.
"I had pretty good command of most of my pitches," Wood said. "I was able to locate the fastball and get the cutter in on the hands. [I got] some early swings and quick outs."
"Another incredible outing," Sveum said of Wood's performance. "He matched their best pitcher pitch by pitch, and our guys battled."
Atlanta scored its only run in the fourth. With one out, Wood issued a walk to Freddie Freeman. Chris Johnson followed with a single to right. The next batter, Evan Gattis, grounded a single to right that went under Schierholtz's glove for an error, and Freeman scored from second to make it 1-0.
The Braves threatened for more in the eighth, when Justin Upton led off with a double and Wood walked Freeman. Carlos Villanueva came on in relief and got Johnson to ground to third, where Luis Valbuena stepped on the bag and threw to first for a double play. Villanueva then got Gattis to fly out to right.
Pedro Strop -- whom the Cubs would like to see in save situations over the season's remaining few games -- came on in the ninth and struck out the side to pick up his fourth career save and first with the Cubs. It was his first save since May 18, 2012, against the Nationals as a member of the Orioles.
"Every time you have the game in your hands, it's always fun when you get the job done," Strop said. "I would say that [striking out the side] is the best way to get out of the inning because nobody could touch the ball. It's fun, but not every time is going to be like that. You just have fun whenever you do it, and it's just another day."
"He did amazing," said catcher Navarro. "He struck out the side and he was throwing his fastball really good, and the slider. He was really nasty tonight."
Sveum said he was impressed with how efficient Strop was, throwing 13 of his 16 pitches in the ninth for strikes.
"That was pitch-efficient," Sveum said. "He threw strikes. … He had the whole gamut working, so it was nice to see, especially at home, in a nice ballgame where we came back. He did a great job."
The Cubs won their first game of the season against Atlanta, having been swept at Turner Field in a three-game set from April 5-7 and dropping the series opener Friday.
Sveum was pleased to prevent the Braves from clinching on the Cubs' home field, even if just for a day.
"That was nice to keep them [from clinching] one more day, anyway. I'm sure they've got a chance tonight with Washington losing. But it was nice not to have to see it in person," Sveum said before the Nationals' game against the Marlins was rained out.
Wood said that while a team doesn't want to lose a game that enables an opponent to clinch a postseason berth, having the chance to be on a clinching team is something he looks forward to being able to experience with the Cubs someday.
"I don't think any team looks forward to [seeing an opponent clinch]," he said. "But it's always exciting when somebody does, and one day, hopefully, that'll be us."
Manny Randhawa is an associate reporter for MLB.com. This story was not subject to the approval of Major League Baseball or its clubs.