Arias sidelined by sore left hamstring
Arias sidelined by sore left hamstring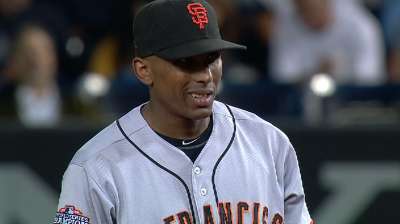 NEW YORK -- Giants utility infielder Joaquin Arias is expected to be sidelined for a few of the season's dwindling days with a sore left hamstring, manager Bruce Bochy said Saturday.
Playing second base, Arias hurt himself as he broke for Eduardo Nunez's ground ball leading off the seventh inning of Friday's game against the Yankees. Arias was forced to halt his pursuit, enabling the ball to trickle into right field for a single. That began New York's winning rally that culminated in Alex Rodriguez's grand slam.
Arias' absence leaves the Giants particularly thin at second base, given Marco Scutaro's troubles with his left ring finger. Tony Abreu, who started Saturday, and Nick Noonan are left to occupy second base.
Arias has started 47 games this year, including 18 at third base, 17 at shortstop, eight at second base and four at first base. He's hitting .271 in 102 appearances with one home run and 19 RBIs.
Chris Haft is a reporter for MLB.com. This story was not subject to the approval of Major League Baseball or its clubs.