Although cleared, Romine's season could be over
Although cleared, Romine's season could be over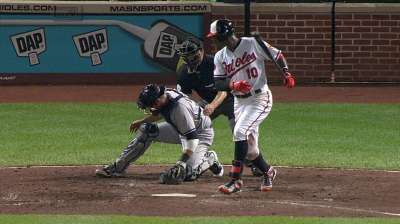 NEW YORK -- Austin Romine has been medically cleared to play, but manager Joe Girardi said on Saturday that there's a chance the catcher won't play again this season.
Romine has been sidelined since Sept. 10 with a concussion he suffered after being hit with a foul ball in a game against the Orioles. The catcher passed the ImPACT concussion test on Sept. 13, but he still hasn't been able to play in a game.
"After he exercises a little bit, he's still not 100 percent," Girardi said. "I don't know if he'll play the rest of the year. I'm not real sure."
Girardi penciled Romine into the Yankees' lineup on Tuesday, but he was scratched because he was still feeling post-concussion symptoms.
Outfielder Brett Gardner could also miss the rest of the season. Gardner has been shut down since suffering a left oblique strain on Sept. 13. Girardi said Gardner could begin doing light exercises soon, but he isn't doing much right now.
Last Sunday, Gardner said there might not be enough time remaining in the season for him to get healthy to return to the lineup.
Josh Vitale is an associate reporter for MLB.com. This story was not subject to the approval of Major League Baseball or its clubs.