Giant accomplishment: Nova fires six-hitter
Giant accomplishment: Nova fires six-hitter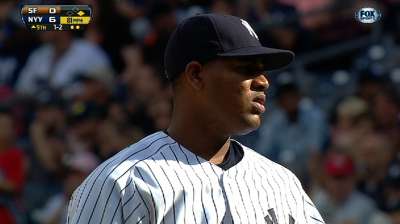 NEW YORK -- The plans are being kept under tight wraps as the Yankees coordinate a sendoff ceremony for the ages in Mariano Rivera's honor, but here in plain sight, the club is taking care of the most important assignments on its weekend calendar.
Ivan Nova fired a six-hit shutout to keep his club alive in the chase for an American League Wild Card slot, supported by home runs from Eduardo Nunez and Alfonso Soriano as the Yankees posted a 6-0 victory over the Giants on Saturday at Yankee Stadium.
"Every time you go out there, you hope to have a good game," said Nova, who logged his third career complete game and second career shutout. "If you have a complete game, it's a great feeling, especially for the time that we are in."
Nova credited a discovery that he made while reviewing video from his previous start against the Red Sox, revealing that he may have been tipping his curveball and fastball. That mistake was corrected in the bullpen by working on varying his glove location.
That quick fix could not have come at a better time for the Yankees, who are still three games behind the Indians, who beat the Astros, in the chase for the second AL Wild Card with just eight games to play. But New York leapfrogged the Orioles and Royals, who both lost Saturday, and it's now behind Texas, which is a half-game back for the second Wild Card.
"It's what you need the rest of the way," manager Joe Girardi said. "It was a great team victory. Offensively, defensively, everyone contributed and our starting pitcher was outstanding."
New York will have an opportunity to secure a series sweep of San Francisco on Sunday, an afternoon that promises to be a memorable one as the club prepares to celebrate Rivera's illustrious career in an elaborate pregame ceremony.
Andy Pettitte, who announced on Friday that he also will retire at the conclusion of the season, will then take the ball to make his final regular-season Yankee Stadium start.
"These are two tremendous Yankees that have meant so much to this organization," Girardi said. "Unfortunately this game comes to an end for all of us, and it's hard; it's hard to see guys go."
Nova did his part to keep Sunday's game meaningful by walking one and striking out seven, posting his first victory since Aug. 31 against the Orioles and the Yankees' 82nd win of the year, clinching their 21st straight winning season dating back to 1993.
"It's no time to pitch the way that I pitched," Nova said. "I'm happy that I pitched the way that I did today. We need to win games."
The offense supported him by hanging five runs on Giants starter Ryan Vogelsong, who lasted five innings while permitting five hits.
The Yankees pieced together a three-run rally against Vogelsong in the third inning, which turned out to be all that Nova would need. Mark Reynolds started the inning with a bloop single and Brendan Ryan laced a hit to left field before Vogelsong walked Chris Stewart.
All three baserunners scored as Ichiro Suzuki lifted a sacrifice fly, Alex Rodriguez worked a good at-bat before logging a run-scoring groundout and Robinson Cano stroked an RBI single to left field.
"He got off to a good start, but then [Vogelsong] makes a few bad pitches and we get behind," Giants manager Bruce Bochy said. "They put up a crooked number and he was just off today."
Nunez staked the Yankees to a 5-0 lead in the fourth with his second home run of the year, a two-run shot to left field that snapped his 108 at-bat homerless stretch.
Soriano extended New York's lead in the sixth with a solo homer to left field off Guillermo Moscoso, marking Soriano's 17th home run in 52 games since joining the Yankees in a late July trade. He also hit 17 homers in 93 games with the Cubs earlier in the season.
"It's good. Lately the offense has not been so good, but today we had a better game offensively," Soriano said. "It's good that we have Nunez and those guys contribute, too, because we need everybody in the lineup."
The solo shot gave Soriano 50 RBIs with the Yankees. Having collected 51 with the Cubs, he became the fifth player in baseball history to drive in 50 or more runs for each of two different teams in one season.
The group also includes Matt Holliday (2009 with Oakland and St. Louis), Manny Ramirez ('08 with Boston and the Dodgers), Carlos Beltran ('04 with Kansas City and Houston) and David Justice ('00 with Cleveland and the Yankees).
Nova said that he believes Soriano "got here at the right time," giving the Yankees with a boost they needed badly. The slugger is continuing to provide that in the optimism department, saying that he believes the club can still run the table and get into the postseason.
"If we play like we played last night and today, we can win all seven games that are left," Soriano said. "But we try not to put too much pressure on us; just play one game at a time like we played today, come back tomorrow with the same energy and try to win tomorrow."
Bryan Hoch is a reporter for MLB.com. Follow him on Twitter @bryanhoch and read his MLBlog, Bombers Beat. This story was not subject to the approval of Major League Baseball or its clubs.