Vogelsong struggles, offense gets blanked
Vogelsong struggles, offense gets blanked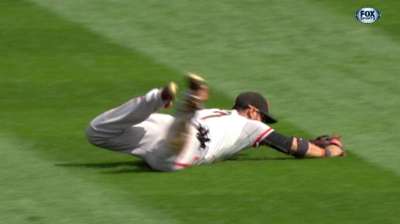 NEW YORK -- For all the disappointment and dismay that the Giants' season has unleashed, observers could find solace in certain articles of faith. Among them were Ryan Vogelsong's return for 2014, given his club-friendly contract, and the consistency of Buster Posey, the National League's reigning Most Valuable Player.
But as Saturday's 6-0 Interleague loss to the New York Yankees demonstrated, even Vogelsong and Posey have shaken the Giants' confidence with their performance.
Vogelsong, a 2011 All-Star selection and San Francisco's biggest winner (3-0) in last year's postseason, continued struggling by yielding five runs in five innings. Posey's sweet swing conjures images of Joe DiMaggio, which happen to be displayed throughout Yankee Stadium. But even Posey's not infallible, as the catcher proved with an 0-for-4 afternoon that dropped his batting average below .300 (.298) for the first time since June 12.
The Giants approached the Bronx with a 5-2 mark on their 10-game trip and victories in their series against the Dodgers and Mets. But San Francisco has been humbled by the Yankees, who remain alive in the American League Wild Card race and have more at stake than the Giants. The men in pinstripes have outscored the Giants 11-1 so far this weekend.
"These last two games have been indicative of how the season went for us," Giants manager Bruce Bochy said. "We stopped hitting or we'd make a mistake defensively."
Bochy neglected to mention pitching, though it probably was on his mind after he watched Vogelsong allow three runs in the third inning and Eduardo Nunez's two-run homer in the fourth. That was more than enough support for Yankees right-hander Ivan Nova, who permitted six hits in his second career shutout.
Vogelsong has pitched erratically since recovering from his fractured right hand. Three of his first four comeback outings were quality starts. But in five games since, he has posted a 6.33 ERA while surrendering 37 hits in 26 2/3 innings.
Retaining Vogelsong should be an easy call for Giants management. The club has an extremely affordable $6.5 million option on his services for 2014. The club would owe him a $300,000 buyout if it declines to pick up the option.
Vogelsong (3-6) understands that the Giants' decision might no longer be so simple, given his overall performance.
"If I was pitching better right now, that's probably not a question," said Vogelsong, who was 27-16 from 2011-12. "I still have a lot to bring to this game and bring to this team. I've told you guys before I want to be back, and I hope they pick [the option] up. If they do, I'm going to be better next year, and if they don't, I'm going to be better next year. That's the only way I can go into the offseason. I don't think it's a secret that I love it here and I love the fans of San Francisco and I want to be back."
Interestingly, Vogelsong characterized his mistakes against the Yankees as mental, not physical. Though neither poor choices nor lack of intellect appeared to influence his effort, Vogelsong seemed to mean that he didn't throw pitches with enough conviction.
"Buster put down the right pitches and we had the right things going and I just didn't execute pitches. I think for me, that's mental," Vogelsong said.
As an example, Vogelsong cited the 1-2 curveball he threw to Curtis Granderson, who lined the pitch for a fourth-inning leadoff single which preceded Nunez's homer.
"It's a matter of knowing that I have to get that ball down," Vogelsong said.
Meanwhile, Posey's striving to get the ball up and out of the infield. He's batting .069 (2-for-29) with one RBI in eight games on the trip. He has eight extra-base hits since the All-Star break.
"My timing's a little off," said Posey. "I think that's the main thing. I have to keep going, keep pushing."
Asked how he typically escapes slumps, Posey replied, "Usually for me it's trying to let the ball travel a little bit more and see it deeper."
Posey insisted that the mild fracture on his right ring finger which he sustained Sept. 3 has not hampered him.
"Absolutely not," he said.
Bochy issued a reminder that even baseball's best players endure such adversity.
"As good as he is, that happens," Bochy said. "He's caught in between and he's not seeing the ball well, which is what happens. ... He's such a good hitter. You just don't see it very often."
Chris Haft is a reporter for MLB.com. This story was not subject to the approval of Major League Baseball or its clubs.