Cobb brilliant for Wild Card-leading Rays
Cobb brilliant for Wild Card-leading Rays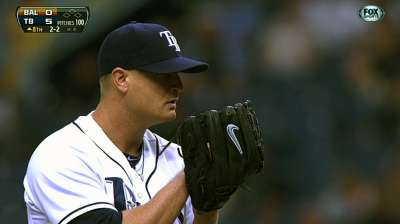 ST. PETERSBURG -- Alex Cobb went to sleep at around 11:30 p.m. ET on Friday, not knowing how the Rays' extra-innings affair with the Orioles would end. Upon waking he discovered that the teams played for two and a half more hours -- the longest game in either franchise's history -- and used all but two pitchers in an 18-inning marathon.
He may have been the only well-rested player in the clubhouse on Saturday but nonetheless felt some pressure to not only deliver a win but to keep the taxed bullpen out of it.
He did that and more by allowing just one run on five hits and striking out 12 over 8 1/3 innings in a game the Rays won, 5-1, at Tropicana Field.
With the win the Rays stayed a half-game ahead of the Indians for the first American League Wild Card berth, because Cleveland beat Houston, 4-1. Texas remained a half-game back of the Indians after beating the Royals, 3-1.
"You can't put into words how appreciative you are when you're on the mound and these guys are playing after an 18-inning game," Cobb said. "I was in bed sleeping while they were putting together a win, and then they come out with the same intensity for you the next day. It's amazing."
Strangely, Cobb didn't get off to the best start, walking two of the first four hitters he faced.
But he settled down to retire the next 12 Orioles in order, not surrendering his first hit until Steve Clevenger poked a single through the right side with two outs in the fifth.
"From the bullpen, I thought it was going to be one of those days where I struggle, where I have to compete to keep my team in it," Cobb said. "Once I settled down and took a step back after the first inning, things started to fall into place."
Nate McLouth, who claimed one of the hits off Cobb, wasn't quite sure how, likening the performance to James Shields' 15-strikeout performance against the Orioles last October at the Trop, a 1-0 win for Baltimore.
"He was pretty much unhittable," McLouth said.
But reliable pitching performances haven't exactly been in short supply for Tampa Bay of late. Clutch hits have.
Desmond Jennings took care of that after Baltimore starter Miguel Gonzalez issued consecutive walks to Jose Molina and Yunel Escobar to lead off the fifth.
Jennings barreled a 93-mph fastball to left field, giving the Rays a three-run lead. The knock was Jennings' 14th homer of the year, a new career high.
A few of Jennings' miscues in center field cost the Rays some games as the calendar turned from August to September, but since manager Joe Maddon had a sit-down with the outfielder, it has been smooth sailing.
"I really recognize a difference in how he's been moving around here the last couple days," Maddon said. "This is a young man who's a great athlete. I told him he's going to be a star in this league for many years to come. I just tried to relay to him what I thought he needed to do right now. Apparently, it worked out OK."
Jennings also beat the Rangers with a walk-off hit Wednesday and scored the game-winning run after belting a double in the 18th on Friday.
"I was in the middle of every big loss for a while. It feels good to be on the other side, and it's good for our team," Jennings said. "Joe talked to me and wanted to build my confidence back up. He told me to go out and play and not worry about anything. I've been doing some things in the cage, and hopefully, it keeps going the direction it has been going."
Jennings was at it again in the seventh, this time facing reliever Francisco Rodriguez, chasing Escobar's one-out triple with a triple of his own. Ben Zobrist followed with a single up the middle to score Jennings, giving the Rays a five-run cushion.
The bullpen didn't get a full night off, as closer Fernando Rodney finished things off in the ninth but did not record a save.
It's the first time the Rays have won consecutive games in a week, a roll they hope to maintain with just eight games to play.
"I want to believe we're going to be able to continue it," Maddon said. "We've used all our mulligans."
Sam Strong is an associate reporter for MLB.com. This story was not subject to the approval of Major League Baseball or its clubs.