O's lose Wild Card ground with third straight loss
O's lose Wild Card ground with third straight loss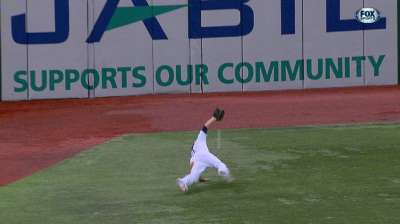 ST. PETERSBURG -- There was no 18-inning marathon this time, no record-setting parade of relievers marching in from the bullpen. But the end result was the same for the Orioles -- another loss and another degree of difficulty added to their uphill climb toward an American League Wild Card spot.
It would be easy enough to place the blame for Saturday's 5-1 loss, the Orioles' third straight, on Friday night's six-hour, 54-minute affair with the Rays, which ended about 11 hours before Saturday's first pitch. But it had less to do with fatigue, the Orioles said, than a dominant performance by Rays starter Alex Cobb.
"I think that'd be taking something away from Cobb. He pitched real well," manager Buck Showalter said. "Nobody's rested this time of year. It's just like I've said many times, you're never really 100 percent, just some form of it. I think it was more Cobb than anything."
Cobb struck out 12 and allowed only one run over 8 1/3 innings and got most of his offensive support from Desmond Jennings as Tampa Bay beat Baltimore for the ninth time in their last 11 meetings. Left fielder Nate McLouth compared Cobb's outing with the one James Shields put together against Baltimore last Oct. 2, when Shields gave up two hits, walked none and struck out 15 in a complete-game loss.
What's more, the loss dropped the Orioles to 3 1/2 games back for the second AL Wild Card spot with eight games left to play, including two more against the Rays.
"The thing is, if we win both of them, we're right back where we started when we got here," McLouth said. "So hopefully, we'll be able to do that, and it starts tomorrow."
Right-hander Miguel Gonzalez tied a career low with two hits allowed and gave the Orioles a quality start despite exiting his previous outing with a strained right groin. Showalter said that Saturday's results weren't indicative of his command, but Gonzalez threw only 54 of his 96 pitches for strikes, the lowest strike percentage in any of his 42 career starts.
Two of Gonzalez's career-high-tying five walks came back to hurt him in the fifth. He put Jose Molina and Yunel Escobar on base to lead off the inning, then Jennings made him pay, hammering a low fastball high and deep into the left-field seats. That turned a scoreless tie into a three-run lead for the Rays, who didn't look back.
"I put myself in a bad situation. You can't be doing that, especially late in the game," Gonzalez said. "I thought it was a good pitch, but you've just got to tip your hat."
Tampa Bay used a Major League-record-tying 11 pitchers to pull out Friday's 5-4 win, but Cobb got the job done nearly singlehandedly as the Rays are a half-game ahead of the Indians -- who beat Houston -- and four games ahead of Baltimore in the Wild Card standings.
"We're in a Wild Card chase. We're trying to get into the playoffs," Cobb said. "I don't think anybody in this clubhouse needs added motivation for that. It's nice getting on a roll and playing good, and that's kind of what happens after these outings."
After managing only two hits over the last 11 innings in the series opener, the Orioles had trouble getting anything going against Cobb. He didn't give up a hit until there were two outs in the fifth inning, when Steve Clevenger slipped a ground-ball single past second baseman Ben Zobrist and into right field.
Between the eighth inning on Friday and the ninth on Saturday, the Orioles went 19 innings without a run against the Rays.
"You knew there was going to be not a whole lot of run-scoring opportunities the way that Cobb's been pitching as well as anybody, really, in the American League," Showalter said. "That's a real forte of theirs, so you know you have to have a well-pitched game against them."
Cobb came out for the ninth after tossing eight shutout innings, then a defensive miscue helped the Orioles put a run on the board. Chris Davis lifted a high fly ball to left field, and it would have been the second out of the inning had David DeJesus not tripped and missed the ball.
Instead Davis got credit for a triple -- his 93rd extra-base hit this season, breaking Brady Anderson's club record -- and scored on Adam Jones' RBI single to right field. But Rays closer Fernando Rodney came in and shut the door.
This one only took two hours and 51 minutes, but the outcome was the same. At the very least, the Orioles will be better rested when they take the field on Sunday afternoon for another critical matchup with the Rays.
"We've got eight more games after this, and we've just got to keep grinding," Gonzalez said. "It's tough losing two games, especially [Friday] night, coming in real late before. We battled. You've just got to tip your hat to those guys. They played a great game today."
Adam Berry is a reporter for MLB.com. Follow him on Twitter at @adamdberry. This story was not subject to the approval of Major League Baseball or its clubs.