Marathon men: Six from Friday in lineup on Saturday
Marathon men: Six from Friday in lineup on Saturday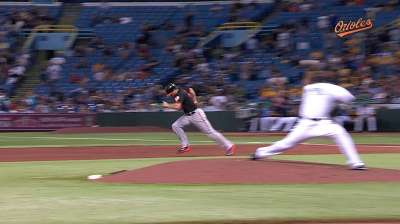 ST. PETERSBURG -- Manager Buck Showalter tried to get a sense both during and after Friday night's 18-inning loss to the Rays as to who might be available 11 hours later, when the Orioles lined up for the second game of this critical series at Tropicana Field.
The response he got was not surprising given Baltimore's place in the American League Wild Card standings -- 2 1/2 games out entering play on Saturday -- and the importance of each game down the stretch.
Six Orioles who played all 18 innings as Friday night gave way to Saturday morning were back in the lineup on Saturday afternoon: Manny Machado, Chris Davis, Adam Jones, Nick Markakis, J.J. Hardy and Danny Valencia. Matt Wieters and Brian Roberts, who also played the full 18, were on the bench in favor of catcher Steve Clevenger and second baseman Alexi Casilla.
"I talked to some of them last night, and I got a real common theme," Showalter said on Saturday morning. "I know there's some emotion there, so I wanted to wait again until this morning. You also want to provide for that part where they get up and go, 'What in the [heck] did I tell him last night?'"
Wieters didn't fight for a spot in the lineup, but he'd had no qualms about finishing Friday night's marathon game behind the plate.
"I kept looking at him after the 12th inning. He'd come in, I'd look at him, he'd look up at me and he'd wink and smile, and I'd go, 'Got it. Good.' That's all," Showalter said. "I know he wanted to catch the rest of the game, period. We were going to sit him today anyway."
Adam Berry is a reporter for MLB.com. Follow him on Twitter at @adamdberry. This story was not subject to the approval of Major League Baseball or its clubs.