Young Rays raise hope for bright future
Young Rays raise hope for bright future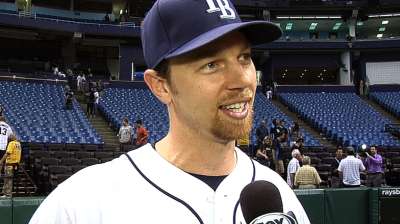 ST. PETERSBURG -- The expansion of rosters in September affords all Major League teams more players, and the Rays got the most out of their depth in Friday's 18-inning win, which lasted nearly seven hours.
Tampa Bay used 28 players, many of whom were helping Triple-A Durham to an International League championship earlier in the week.
Infielder Tim Beckham entered the game in the bottom of the 14th, with catcher Chris Gimenez coming on in during the 15th and finishing the game at first base. Right-hander Jake Odorizzi handled the 11th, 12th, 13th and two-thirds of the 14th inning, allowing just one hit.
"I thought Beckham was calm in the moment and Gimenez always is, I know that," manager Joe Maddon said early Saturday morning. "Odorizzi was fantastic. He really permitted all of that to happen. Durham showed why they won the championship tonight."
The fact that the young players played a prominent role in such a big game can only bode well down the road, according to Maddon.
"Those kids were outstanding," he said. "What a great experience for all of them. When I'm looking at that, I'm looking at the future. We're breaking them in under these circumstances and they're surviving well? That's pretty cool."
Sam Strong is an associate reporter for MLB.com. This story was not subject to the approval of Major League Baseball or its clubs.