O's reinforce bullpen with Belfiore, Britton
O's reinforce bullpen with Belfiore, Britton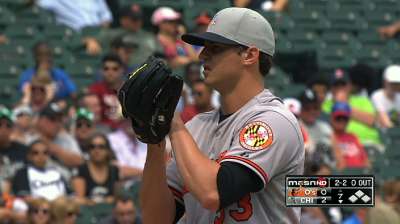 ST. PETERSBURG -- After using 10 pitchers in Friday night's 18-inning loss to the Rays, the Orioles on Saturday called up left-handers Mike Belfiore and Zach Britton to reinforce their bullpen.
Belfiore, who has been called up twice this season but has yet to make his Major League debut, said that his phone rang at around 3 a.m. ET on Saturday, not long after the game ended.
"Never leave it on silent," Belfiore said. "I learned that real quick."
Both Belfiore and Britton had been working out at Baltimore's complex in Sarasota, Fla., throwing bullpen sessions and simulated games to stay ready in case they were needed.
Belfiore tried to keep up with Friday's game, though he admits to dozing off; he and Britton drove to St. Petersburg together for the game against Tampa Bay.
"We'll see what happens. I can't control when I go in there, but I can control how I prepare and all that. That's the most important thing," said Belfiore, who added that he's "ready to go" after last throwing on Thursday.
Manager Buck Showalter said that Belfiore and Britton will remain with the club the rest of the way. They could be called into action quickly depending on the health of starter Miguel Gonzalez, who left his previous start, on Sunday, in the sixth inning with a strained right groin. Gonzalez passed all the necessary tests, but Showalter said "you can't imitate going off the mound, fielding a ground ball."
"So you'd better protect yourself," Showalter added. "It's not like everybody that pitched [on Friday] can't pitch [on Saturday]."
Showalter said that Tsuyoshi Wada, who is also working out in Sarasota, "was an option" but added that Belfiore and Britton "were a little bit more ready, so we're covered better."
Adam Berry is a reporter for MLB.com. Follow him on Twitter at @adamdberry. This story was not subject to the approval of Major League Baseball or its clubs.