Dodgers rest regulars night after clincher
Dodgers rest regulars night after clincher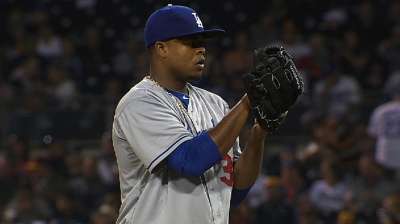 SAN DIEGO -- The Dodgers didn't swim in anybody's pool Friday or build castles in the sandbox beyond the bleachers at Petco Park. There was no further celebrating, nothing that rival teams nor U.S. senators would find disrespectful.
The worst thing that happened -- not counting reliever Ronald Belisario showing up at the stadium after batting practice and getting fined -- was the newly minted NL West champions losing a meaningless game to the Padres, 2-0.
Manager Don Mattingly rested all of his first stringers, including the weary and sore nucleus of Hanley Ramirez, Matt Kemp, Adrian Gonzalez, Yasiel Puig, Carl Crawford and Andre Ethier.
Fans might have thought an Albuquerque Isotopes game had broken out, as six of the starting nine spent at least some time at the Triple-A stop this year.
"The biggest thing today was to give the guys that have been grinding for months and are banged up a needed day," Mattingly said. "[The regulars will be] back out there [Saturday]. Going back to Spring Training, these guys have played almost 200 games, and at some point, they've got to take that one breath."
Edinson Volquez made the start, lasting 6 1/3 innings and 111 pitches against the team that released him last month. He allowed two runs, only one earned, although he walked four.
"We've seen that from Volquez, the high pitch count," said his former manager, San Diego's Bud Black. "He was wobbling but got out of it."
Even for an improving hard-thrower like Volquez, it's hard to imagine a spot on the roster for a fifth starter in the best-of-five opening round of the playoffs. But he delivered his second quality start in the last three outings and wasn't bothered by a thumb blister that developed in his previous start, reinforcing his value should a fifth starter be needed later in the postseason.
"The first few innings I was all over the place, but I made some adjustments the last couple of innings," he said. "I was excited to come back here. I played here almost two years and have a lot of friends. Other than that, I just do my job.
"I'm proud of myself for being back in the big leagues after being released. I'm happy with what I'm doing."
Volquez deferred to his manager when asked to speculate on his possible postseason role. Mattingly was elusively diplomatic.
"Nobody's trying out. We know our guys," Mattingly said. "You don't use a fifth unless he's in the bullpen. We'll talk about that at roster time. We're always evaluating. Anything could happen in the next eight days. A guy could go down. We're constantly moving forward."
Carlos Marmol, one of several reclamation success stories, had three strikeouts in 1 1/3 innings of relief.
The Dodgers' offensive support was minimal. Skip Schumaker had three of the Dodgers' six hits, two of them doubles.
The second one led off the ninth inning, which Mattingly turned into a parade of star-quality pinch-hitters. But after Gonzalez moved Schumaker to third with a pinch-single off Huston Street, Puig and Kemp struck out to leave the tying runs on base.
The Padres scored an unearned run off Volquez in the first inning. With one out, Chris Denorfia bounced to shortstop Dee Gordon, whose wild throw bounced into the stands, allowing Denorfia to take second.
With Jedd Gyorko up, Denorfia stole third base, one of five Padres steals. Gyorko bounced to third baseman Jerry Hairston, who bobbled the ball and recovered, threw Gyorko out at first, but Denorfia broke for the plate and beat the strong throw home from Drew Butera, a backup catcher starting at first base.
Gyorko also drove in San Diego's second run, but it was as earned as it gets as he crushed a mislocated high fastball over the center-field fence for his 20th home run, the fifth rookie second baseman in history to do that.
Ken Gurnick is a reporter for MLB.com. This story was not subject to the approval of Major League Baseball or its clubs.