Shoemaker's stellar debut followed by walk-off
Shoemaker's stellar debut followed by walk-off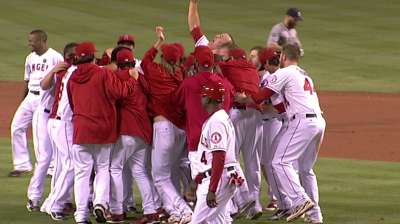 ANAHEIM -- Angels starting pitcher Matt Shoemaker was left with a no-decision in his Major League debut, but Chris Iannetta gave the Angels a 3-2 walk-off victory in 11 innings over the Mariners on Friday night at Angel Stadium.
"It felt great," Iannetta said. "I'm looking to get on base after I have two strikes -- 2-0 I was looking at obviously driving a pitch, fouled two back to get to 2-2, and [Mariners reliever Bobby LaFromboise] left a slider over the plate, and I was able to get the barrel to it."
Kole Calhoun started the rally with an 11th-inning single, and two batters later, Iannetta hit a line drive off the center-field wall to bring home the winning run and pull the Angels within three games of .500 for the first time since July 20.
Shoemaker -- a 26-year old undrafted free agent who signed with the Angels organization in 2008 -- made his Major League debut and held Seattle scoreless for five innings.
The right-hander struck out three of the first four batters he faced and was lifted after allowing two hits and striking out five as the Angels won for the 11th time in their last 15 games.
"He pitched well," Angels manager Mike Scioscia said. "He needed a lot of pitches to get through five innings, but when he had jams, he got out of it. He mixed and matched. I think he got a little bit tired after five, and we really didn't want to stretch him, but it's a great effort. Great effort."
Mariners center fielder Michael Saunders echoed those sentiments.
"For his big league debut, he was keeping the ball down, and you could tell he was composed on the mound," Saunders said. "He was mixing up his pitches, able to throw off-speed in hitter's counts. His splitter is pretty good. Not seeing him before certainly made it tougher, but all the credit to him. He pitched a great game, especially for his debut. He's got the stuff to continue to be successful at this level."
However, a mental lapse from Michael Kohn helped the Mariners get on the board, and it appeared Shoemaker's night would be marred.
With two outs in the seventh, Dustin Ackley grounded the ball to Mark Trumbo at first, but Kohn was late to cover the bag, and Ackley reached base safely.
One batter later, Saunders delivered a two-run single.
Seattle's lead was short-lived, however, as Andrew Romine tied the game with a two-out, two-run single in the bottom half of the inning.
"Huge hit," Scioscia said. "In the seventh we had second and third, and were looking for a hit to tie the game, and Romine got a 3-2 pitch and clean base hit to right field. He had good at-bats all night."
Romine, who finished 3-for-4, had two RBIs in his first 54 Major League games over four seasons but now has eight in his last 11.
The Angels' offense, a unit that began the night averaging 5.4 runs a game in September, was unable to take advantage of a leadoff double in the eighth.
The Angels had another opportunity to win the game in the 10th after J.B. Shuck led off the inning with a walk.
However, Scioscia had Howie Kendrick execute a sacrifice bunt to move Shuck to second.
With first base open, the Mariners opted to intentionally walk Mike Trout, a choice Scioscia said he expected Mariners manager Eric Wedge to make.
"We're looking for a base hit to win the game," Scioscia said. "I don't think you want to sit back and always have Mike try to split the gap or hit a home run."
Scioscia felt that Josh Hamilton -- who ended the inning as he grounded into a double play -- and Trumbo would give the team a good chance to win.
And although that is not how the 10th played out, Iannetta's hit did the job in the 11th.
William Boor is an associate reporter for MLB.com. This story was not subject to the approval of Major League Baseball or its clubs.