Seager sits after 106 consecutive starts
Seager sits after 106 consecutive starts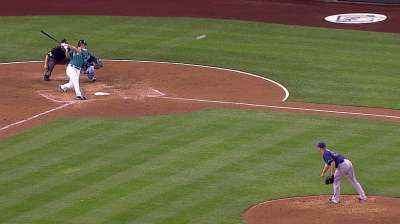 ANAHEIM -- Kyle Seager has been the most consistent part of the Mariners' lineup all season, but the young third baseman saw his streak of 106 consecutive starts come to an end Friday against the Angels.
Seager did come off the bench in the seventh inning and wound up getting three at-bats in Seattle's 3-2 loss in 11 innings, going 0-for-2 with a walk.
Seager's string of starts was the longest run by a third baseman in club history and the second-longest active streak in the American League behind the 203 of Baltimore's Manny Machado.
Rookie Carlos Triunfel took Seager's place at third, with rookie second baseman Nick Franklin shifting over to get his first Major League start at shortstop. Dustin Ackley, who had been playing center field, moved back to second base to fill out an infield that is shorthanded due to a hamstring strain that has sidelined starting shortstop Brad Miller since Saturday.
Seager was 2-for-40 at the plate over an 11-game stretch until going 2-for-3 in Thursday's 5-4 loss to the Tigers, but he insisted he felt fine physically.
"It's something that as I've gotten into the routine of everything, it honestly does feel fine," he said. "I don't feel physically tired, or crazy tired anyway. It's something where I got into a nice routine and feel fine."
Seager did not sound thrilled to be absent from the lineup Friday, but he said manager Eric Wedge told him "to get a breather and finish off the season strong."
The 25-year-old played a team-high 155 games last year and will rack up 159 games this season if he plays the remaining eight games. And you will hear no complaints from Seager about being overused.
"That's what everybody wants to do," he said. "Everybody wants to play every day. You're going through all this stuff, you want to be somebody they have confidence in to put you out there every day. You want them to be able to pencil you in every day. As a player, that's what you want."
Greg Johns is a reporter for MLB.com. Follow him on Twitter @GregJohnsMLB as well as his Mariners Musings blog. This story was not subject to the approval of Major League Baseball or its clubs.