Chacin battles through six, homers to top D-backs
Chacin battles through six, homers to top D-backs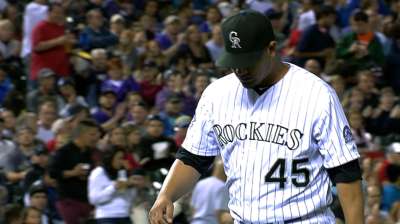 DENVER -- There are moments that distinguish an ace from a reliable No. 2 or 3 pitcher.
Jhoulys Chacin (14-9) found himself in one of those moments in the sixth inning. Chacin battled through five innings without the control or movement he's used to and faced a bases-loaded jam with pinch-hitter Willie Bloomquist in the batter's box and the game knotted at 2.
And Bloomquist didn't make it easy. Chacin threw nine pitches before Bloomquist smoked a line drive right into the glove of Todd Helton. That opened the door for the Rockies' four-run sixth, which led them to a 9-4 victory over the D-Backs at Coors Field on Friday night.
"It was stressful," Chacin said. "I got 1-2 ahead, and then I got 3-2, so now I need to throw a strike. I was just trying to throw a strike -- doesn't matter if he hit it anywhere. Just throw a strike with any pitch and happy he hit it right to Todd."
For Rockies manager Walt Weiss, escaping that situation proved Chacin -- the Rockies' Opening Day starter -- was more than just the ace on paper. Nineteen of his 30 starts have been quality starts and he finished the season with a highly respectable 3.77 ERA at Coors Field.
"I think he's had probably one of the better seasons any starters had here, and coming off a season where he missed a lot of time," Weiss said. "So Jhoulys has been great. He's had a hell of a year."
The Rockies lineup was far from full strength, missing the bats of Michael Cuddyer, Carlos Gonzalez, Dexter Fowler and Wilin Rosario, all of whom are out with injuries. But the more unproven faces who replaced them drove in four of the Rockies nine runs.
Playing right field in place of Cuddyer, Charlie Blackmon started the sixth-inning surge with a solo blast to right field off Arizona reliever Tony Sipp (3-2), who faced just three batters and surrendered three runs. Two batters later, Corey Dickerson belted a two-run homer off the bottom of the second deck, Coors Field fully living up to its reputation as a home run paradise as the teams combined for six of them.
Blackmon's homer, giving him six consecutive games with an extra-base hit, got the offense rolling.
"He put a good swing on it and kind of let the guys know what [Sipp] was throwing," Dickerson said. "He was hanging his stuff and hanging his slider. We didn't do much off [Randall Delgado], but we put together good at-bats."
"You've got to keep the ball down here in Coors Field, and we didn't do a very good job of that," D-backs manager Kirk Gibson said.
Charlie Culberson extended his hitting streak to eight games with a single to left that scored Helton and put Colorado up 6-2. The crowd erupted in cheers each time Helton stepped to the plate and let out a hearty roar when he sent his 589th career double into the right-field corner.
"They've taken advantage of an opportunity here getting consistent playing time -- Dickerson, Blackmon, Culberson, who's playing the outfield for really the first time at the Major League level, not easy to do. But those guys are playing really well and making a big-time impression," Weiss said.
Chacin crafted a memory that won't soon be forgotten in the third, lifting a 2-2 pitch from Delgado just beyond the left-field wall to tie the game at 2. It was his first career home run and the first by a Rockies pitcher since Alex White hit a solo homer at Petco Park on Sept. 16, 2012.
He was cautious at first, unsure he the ball actually cleared the fence, and perhaps a bit shocked.
"I felt like I hit it good, but I just saw the outfielder running, so I didn't know," Chacin said. "But just happy to tie the game there and then just give the team a chance to win the game later."
Though Chacin's streak of five straight home starts of at least seven innings ended, he didn't allow another run after the first. He departed after six innings, walking five and giving up six hits.
A.J. Pollock handed Arizona a 2-0 lead in the first when he smoked a Chacin slider into the left-field bleachers after Adam Eaton's leadoff triple.
Troy Tulowitzki gave the Rockies extra cushioning in the seventh with a two-run homer to straightway center, his second in as many nights and the Rockies' fourth of the game.
Delgado left before the things got ugly for the D-backs, allowing two runs and three hits over five innings.
Ian McCue is an associate reporter for MLB.com. This story was not subject to the approval of Major League Baseball or its clubs.