Missed chances, faulty relief lead to D-backs' loss
Missed chances, faulty relief lead to D-backs' loss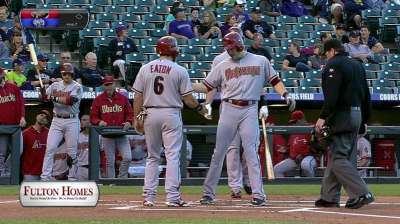 DENVER -- An offense that wasn't able to deliver the knockout blow when it had the chance and a bullpen that could not keep the opponent from doing just that.
Those are two of the things that hampered the D-backs throughout the 2013 season and it was also a description of how they dropped a 9-4 decision to the Rockies on Friday night at Coors Field.
The Reds' win earlier in the night eliminated the D-backs from the race for the final National League Wild Card spot. One day earlier, Arizona was eliminated from the NL West race when the Dodgers clinched.
The D-backs got off to a promising start Friday as Adam Eaton tripled to lead off the game and A.J. Pollock followed with a home run to left off Jhoulys Chacin.
Chacin (14-9) has been one the Rockies' top starters this year, but it didn't appear that he had his good stuff on this night. The D-backs had multiple runners on in almost every inning against him, but could not come through with a big hit to blow the game open.
"We had a lot of opportunities," D-backs manager Kirk Gibson said. "We were 2-for-12 with runners in scoring position. That's been a problem for us for some time. It's got to be addressed. We've got to be better at it."
In his six innings of work, Chacin allowed six hits, five walks and hit a batter. Yet for all that traffic on the bases, the D-backs were unable to score off him after the game's first two batters.
The D-backs stranded 10 runners through the first six innings and hit into three double plays. They narrowly missed getting that much-needed big hit in the sixth.
With the bases loaded and two outs, Gibson decided to go for broke and sent Willie Bloomquist up to pinch-hit for starter Randall Delgado. Bloomquist battled Chacin in a nine-pitch at-bat that ended with a screaming liner right at first baseman Todd Helton, who gloved it to end the inning.
"That was a huge inning right there for him," Rockies manager Walt Weiss said of Chacin getting out of the inning. "But that's what he's been able to do a lot this year. Even on the days where he hasn't had his ace stuff, he's been able to induce a double play, and that's really been one of the keys to his success."
To that point, the only offense the Rockies had managed was a two-run homer by Chacin in the third. The blast, Chacin's first career homer, came on a hanging breaking ball.
"We were trying to go down and away and it just spun, and it ended up middle-in, and he just put a good swing on it and hit it out," catcher Wil Nieves said. "We tried to go away and it just didn't break."
The Rockies blew the game open against the D-backs' bullpen in the sixth. Charlie Blackmon greeted reliever Tony Sipp with a home run to right, and after Josh Rutledge singled, Corey Dickerson blasted another homer to give the Rockies a 5-2 lead.
Colorado would tack on another run later in the inning against J.J. Putz.
The D-backs cut the lead to 6-3 in the seventh when Paul Goldschmidt hit his 35th home run of the year, but Troy Tulowitzki tallied two more for the Rockies when he went deep in the bottom of the frame.
"The relievers weren't very effective at all tonight," Gibson said. "You've got to keep the ball down here in Coors Field, and we didn't do a very good job of that."
Goldschmidt continued his MVP-type season by going 2-for-4 with two RBIs to raise his NL-leading total to 121.
Before the game, Gibson asked Goldschmidt how many games he wanted to play of the team's final 10. Goldschmidt did not hesitate in answering that he wanted to play in all of them.
"I think everyone wants to play as much as they can," Goldschmidt said. "We get paid to play and it's fun. You get to play baseball. We're all very fortunate to get an opportunity to play. It's what we all dream of growing up. I think if you ask every single guy in here, they want to play every game."
Steve Gilbert is a reporter for MLB.com. Read his blog, Inside the D-backs, and follow him on Twitter @SteveGilbertMLB. This story was not subject to the approval of Major League Baseball or its clubs.