Dice-K, Mets top Phillies in Wright's return
Dice-K, Mets top Phillies in Wright's return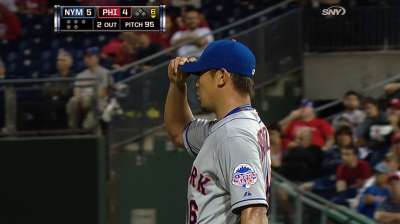 PHILADELPHIA -- On a night David Wright returned to the lineup, it was Daisuke Matsuzaka delivering his third consecutive solid start that made the difference for the Mets.
Wright took a step up in the Mets' record books with a home run in his first at-bat off the disabled list, and Matsuzaka allowed just two earned runs in six innings as the Mets beat the Phillies, 6-4, at Citizens Bank Park on Friday night. Matsuzaka, who allowed four total runs -- two unearned -- in a sloppy fourth inning, surrendered just four hits and struck out six to pick up his second win of the season.
"I thought it was just that one inning," manager Terrry Collins said of Matsuzaka's night. "Early in the game, he was behind in the count, but that's how he pitches. He tries to nibble and he knows he can throw strikes, and then in the fourth inning, it left him for a little while. He got it back in the fifth and sixth, but he pitched good."
For three innings, Matsuzaka looked dialed in as the Phillies struggled to get men on base. Before the game, Collins noted that Matsuzaka has sped up his work rate and that it had made a difference.
"Through my last two starts and today my pace is something that I have focused on," Matsuzaka said through a translator. "The small adjustments I've been making with my mechanics are starting to show in the results, too."
But ahead, 5-0, in the fourth, a combination of miscues and a loss of command cost Matsuzaka.
Chase Utley led off the inning with just the second hit of the night for the Phillies. Consecutive walks to Carlos Ruiz and Domonic Brown slowed the pace considerably, and that allowed a dormant Citizens Bank Park crowd a chance to get back into the game.
Darin Ruf followed with a double down the third-base line that drew chalk and bounded off the stands in foul territory. Utley and Ruiz scored easily, and when Eric Young Jr.'s throw to second baseman Daniel Murphy bounced away, Brown scored on the error.
The Mets' miscues continued. After an out, John Mayberry Jr. hit a sharp ball back up the middle which was stopped by Matsuzaka's right foot. Matsuzaka picked the ball up and went to Wright at third to get Ruf in a rundown, but after Wright tossed the ball to Omar Quintanilla, the shortstop stumbled in his chase of Ruf and missed the tag, which left runners on second and third. Pitcher Cole Hamels grounded out to first to plate Ruf and cut the Mets' lead to 5-4.
"Overall my command was pretty good," Matsuzaka said. "Except for that fourth inning where all my pitches weren't going where I wanted them to. Looking back, I could have pitched differently to prevent those runs from scoring."
For the Mets, the night couldn't have started any better had they penned it themselves in the clubhouse hours before the game.
The return to the lineup by Wright for the first time since Aug. 2 due to a strained right hamstring added juice to the Mets' clubhouse. With their captain back, the Mets pounced early.
Young opened the game with a flare down the right-field line off Hamels. Mayberry made a good run to the ball, but was unable to make a diving catch as Young reached with a double. He promptly stole his 40th base of the season and scored when Murphy singled up the middle for a 1-0 lead.
This set the stage for Wright, who has had a great deal of success both at Citizens Bank Park and off Hamels in his career. Wright went the opposite way for his 17th home run of the season. The home run was the 221st of his career, which put him ahead of Mike Piazza into second place on the Mets' all-time home run list. Wright remains behind Darryl Strawberry, who finished his Mets career with 252 home runs.
"I told him when he came in the dugout that the game is not that easy," Collins said. "I said before the game that special people do special things. Nothing surprises me, but it was certainly good to have him back in the game."
"It's just fun to be back out there," Wright said. "You feel like when you are hurt that you are really not a part of the team. You are not a part of that camaraderie. You get those competitive juices flowing again, and that was fun. You don't know how much you miss it over six or seven weeks."
The Mets built on that early 3-0 lead in the third after Murphy led off with his second single in as many at-bats. Murphy stole second -- his 20th of the season -- and after a flyout and a groundout, Andrew Brown singled on a blooper over the head of Ruf at first base, scoring Murphy.
In the fourth, Travis d'Arnaud scored on a single by Young.
"[Adding on runs] was very important," Collins said. "We had the dump stroke going. One of the guys in the dugout said it looked like Bobby Riggs' tennis game. Lob shots over the infield because runners were in scoring position."
Michael Radano is a contributor to MLB.com. This story was not subject to the approval of Major League Baseball or its clubs.