Closer situation muddled after Mujica's latest lapse
Closer situation muddled after Mujica's latest lapse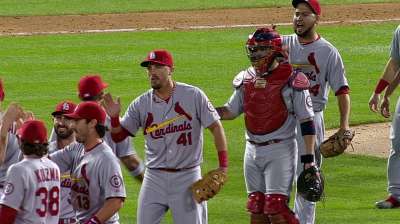 MILWAUKEE -- In the minutes after the Cardinals celebrated a 7-6 win over the Brewers, manager Mike Matheny chose not to start speculating how the team would handle save situations in the coming days.
Nevertheless, the Cardinals are clearly in a closer conundrum, with Edward Mujica having blown three of his last five save chances. That included a opportunity on Friday when he frittered away a two-run lead. Asked if the ninth-inning complexion was likely to change, Matheny said it was "too fresh right now" to react with definitive decisions.
"We'll have a better idea [on Saturday]," Matheny added.
Earlier in the day, the Cardinals manager had reasserted his confidence in Mujica, who had just blown a save Thursday in Colorado. But that confidence could be waning after Friday, which saw Mujica allow four of the five batters he faced to reach. John Axford had to assist Mujica in getting out of the trouble.
"I don't have an issue that I can put my hand on," Matheny said. "Velocity is close. Split action and speed on the split [changeup] is close. There's nothing that's glaring to say, 'Here, that's what's going on.' You're always walking a fine line with all your pitchers, especially a closer. We know how important it is to have a guy that can pitch the ninth and be effective. We'll take a deep breath and check everything out and figure out what we can do to help get him right."
Speaking before Friday's outing, Mujica said that he thought he had put his finger on an issue after Thursday's outing. Along with pitching coach Derek Lilliquist and pitcher Chris Carpenter, Mujica watched video of his outing before boarding the team's charter flight to Milwaukee. He admitted to feeling some fatigue and wanted to see if that was having an effect on his mechanics.
Mujica identified a problem with his release point. It was not consistent with the speed of his delivery.
"Sometimes you don't see that, but other people in the dugout can see what you're doing on video," Mujica said. "I have to work on it."
Mujica hopes the fix is that simple, though his remarks about fatigue perhaps indicate that there are multiple factors behind his recent struggles. The dominance that defined Mujica's early season success has been replaced by much more complicated outings. Whereas he faced the minimum batters while converting 15 of his first 21 save opportunities, Mujica has done that in only three of his last 10.
He has been scored upon in six of his last 11 outings, allowing eight earned runs, three home runs and a .425 opponents' batting average during that stretch. In his first 52 games, Mujica gave up only 10 earned runs, five homers and held opponents to a .200 average.
Shooting down speculation that there could be something physically wrong, Mujica said the stress of his role could be behind this recent bout with fatigue.
"It's a different situation," said Mujica, who ranks third in the National League with 37 saves. "To be a closer is totally different, because you have to be ready for almost every single night. Last year, I was preparing to throw the seventh inning. I might pitch three days in a row and then [manager] Mike [Matheny] just gave me one or two days off. As a closer, it's different. Every single day you have to be ready for the game. Sometimes when we're on the road… sometimes you have three or four or five innings warming up for that situation. Then you come into the game and you feel a little bit tired. It's different to be a closer. There are a lot of responsibilities mentally and physically."
Matheny, though, downplayed the potential fatigue factor. Though Mujica is closing for the first time in his career, he will not match his season highs in innings pitched or appearances this season.
"I don't want to go there. I don't want him going there," Matheny said. "I know it's something that's naturally talked about whenever you see some difference in somebody's performance you want to start breaking it down and figuring it out. But that's one of those things that we really can't control. What he can control is putting that out of his mind to go back out and make his pitch one at a time. That's a real simple philosophy that we've had with our pitchers all season."
Jenifer Langosch is a reporter for MLB.com. Read her blog, By Gosh, It's Langosch, and follow her on Twitter @LangoschMLB. This story was not subject to the approval of Major League Baseball or its clubs.