Shaky defense delivers tough-luck loss to Oberholtzer
Shaky defense delivers tough-luck loss to Oberholtzer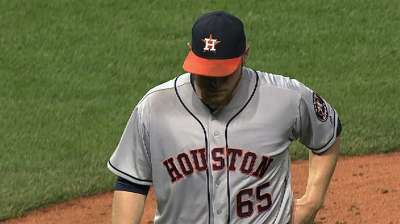 CLEVELAND -- After a pair of baserunning mistakes helped doom the Astros in back-to-back extra-inning losses Wednesday and Thursday, it was their defense that proved their worst enemy Friday night at Progressive Field.
The Indians scored a pair of unearned runs against tough-luck starting pitcher Brett Oberholtzer, which was enough to send the Astros to their season-high seventh consecutive loss, 2-1, in a rain-shortened game.
The game was delayed in the middle of the seventh inning, when a swath of heavy rain inundated downtown Cleveland. Astros manager Bo Porter had no issue with the umpires calling the game after an hour, nine-minute delay.
"When you're looking at the radar, we kind of thought it was going to come 15 minutes before it actually came," he said. "We knew going into the game that the weather was going to possibly be a factor, and there's nothing you can do about Mother Nature."
Oberholtzer (4-4) delivered another quality start for the Astros, holding the Indians to four hits and two unearned runs in six innings, lowering his ERA to 2.71. The lefty has lost three consecutive starts, despite allowing five earned runs in 18 innings in that span.
He did a nice job of limiting the damage considering the tough spot his defense put him in on two occasions.
"Any time I get in a jam like that, that's what you have to do as a pitcher," Oberholtzer said. "I felt like I've done that pretty well the last couple of starts when I do get into jams, taking one pitch at a time, slowing the game down physically and mentally, and just concentrate on making one pitch and stay in the moment."
Porter certainly was impressed.
"If we made a couple of defensive plays, we arguably could be standing here with a 1-0 victory," he said. "He pitched that well. He continues to grind and make pitches and give us big performances."
The Astros took a 1-0 lead in the second inning on a two-out solo homer by Brandon Laird, who was starting at third base.
Laird committed a one-out fielding error in the bottom of the inning that proved costly. The Indians wound up loading the bases with one out when Mike Aviles hit another grounder to Laird, who knocked the ball down and tagged out Asdrubal Cabrera heading to third as Carlos Santana scored to tie the game at 1.
"It happens," Laird said. "I just got caught between the ball right there [on the error]. It took a funky hop, but I regrouped. Like I said, it happens and you just got to move forward."
The Indians took advantage of some shoddy defense to take the lead in the fourth.
With runners at first and second and one out, Michael Brantley hit a grounder to first baseman Chris Carter, who threw the ball into left field while trying to get an out at second. Left fielder Marc Krauss scooped up the ball and misfired on a throw to the plate, allowing Ryan Raburn to score to make it 2-1.
"It's plays that you expect to be made in a Major League Baseball game," Porter said. "Errors are a part of the game -- we all know that -- but at the same time, we expect those plays to be made."
The Astros loaded the bases with one out in the fifth inning against Indians starter Zach McAllister (9-9), who got Jonathan Villar to hit into an inning-ending double play. The Astros are 5-for-43 with runners in scoring position in their past six games.
"Houston came in yesterday and today, and they've played great," McAllister said. "They're playing with a chip on their shoulder. They have a chance to knock contenders out. When you're not in it, that's what you want to do as a team. They've played great the last couple of games and we've been lucky enough to get the wins."
The loss is the third consecutive one-run defeat for the Astros, who lost in 13 innings Wednesday in Houston and in 11 innings to the Indians in the series opener Thursday.
"It's frustrating," Laird said. "It's been a lot of traveling and getting in early and just long days. We'll be all right. Hopefully we bounce back tomorrow and get another win. They're playing good ball right now. They're [one of two leaders in the American League Wild Card race] and it makes it exciting to play these games. Hopefully we can get a win tomorrow."
Brian McTaggart is a reporter for MLB.com and writes an MLBlog, Tag's Lines. Follow @brianmctaggart on Twitter. This story was not subject to the approval of Major League Baseball or its clubs.