Longoria, Myers, Zobrist honored by BBWAA
Longoria, Myers, Zobrist honored by BBWAA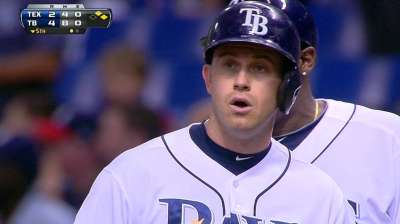 ST. PETERSBURG -- The Tampa Bay chapter of the Baseball Writers' Association of America released its annual award winners Friday.
Evan Longoria, the Rays' leader in home runs and RBIs, was named most valuable player. It is the first time in his six-year career that he has taken home the honor.
"It's ironic for me," Longoria said. "In the six years I've been here, this has been my most inconsistent. This year has been a little personally disappointing for myself, but I guess it speaks to the fact that I've been healthy and the impact that has on the rest of the team."
If Longoria plays in every game to finish the season, it would mark a career high of 158 games. He played in just 74 games last season.
"When I've been on the DL, the toughest thing is not being able to go out there every day," Longoria said. "There are a lot of guys that are deserving of this award. We've had enormous contributions from so many guys and it really makes it special. I'm honored."
The outstanding rookie award was given to outfielder Wil Myers, who many feel could win the American League Rookie of the Year Award as he leads AL rookies in home runs and RBIs.
The Paul C. Smith Champion Award, named in honor of the late MLB.com writer and presented to the player who best exemplifies the spirit of true professionalism on and off the field, went to utility man Ben Zobrist.
"It's not something you set out to win at the beginning of the year, but at the same time, that's something you hope you can live up to," Zobrist said. "Being considered one of the good guys is something you want to do your best to represent well."
Sam Strong is an associate reporter for MLB.com. This story was not subject to the approval of Major League Baseball or its clubs.