A's open to using Anderson in variety of roles
A's open to using Anderson in variety of roles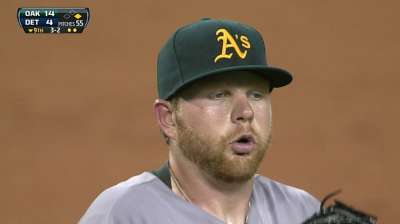 OAKLAND -- Now knowing that Brett Anderson is in the bullpen for good this season, A's manager Bob Melvin has been able to experiment with the lefty in a variety of roles.
Anderson pitched on consecutive days for the first time in his career this week, getting one out on Wednesday against the Angels before being called on for 1 1/3 innings vs. the Twins. He allowed one run on three hits but also struck out three.
Oakland's southpaw entered this game with two outs and the bases loaded. He offered up an RBI single before putting an end to the frame, all while impressing his manager.
"I think his stuff is better in those type of outings, where he has to go out there and be on it right away," Melvin said Friday. "That's probably the biggest transition for him, going from starting to a reliever. As a starter, you kind of have time to work your way into a rhythm and you get it, whereas a reliever you don't, and I think the times he's been in games where it hasn't been a close game, you've seen some hits and some command issues, whereas yesterday it looked like his stuff was a lot better because he had to be on it right away."
Will Melvin continue to keep Anderson on speed dial in close, late-inning situations?
"Sure," he said. "It depends on the personnel we have available on that day, depends on the matchups, but I think we've moved him around a little bit to where he can pitch in almost every role now, whether it be lengthy or shorter stints like yesterday. Just depends on the variables in a particular day, but, yeah, I'd use him in a close game like we did last night."
Jane Lee is a reporter for MLB.com. This story was not subject to the approval of Major League Baseball or its clubs.