Arenado plays through bruised right thumb
Arenado plays through bruised right thumb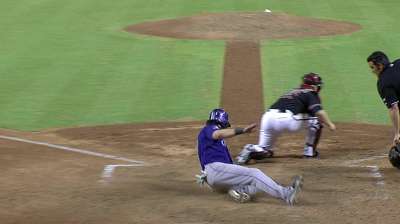 DENVER -- Rockies third baseman Nolan Arenado can't stand sitting on the bench.
So he was back in the starting lineup and played through a bruised right thumb in Friday night's 9-4 win over the D-backs after missing the last three games. He finished 1-for-3 with a walk.
"I want to try to get in there and do something," Arenado said before the game. "If I can't, if it doesn't feel good and it's hurting, I probably won't play anymore. But [it's] something I got to deal with, and hopefully it doesn't flare up as bad."
Arenado was pulled from a Sept. 4 win over the Dodgers due to the thumb injury and missed his next start. He said it was something that had bothered him for several weeks. The thumb can flare up easily, but Arenado convinced Weiss to give him another chance.
"We want to make sure he feels good enough to go in there, and if he gets jammed, it wasn't going to blow up again," Weiss said. "That might be the case, but he assured me that he felt good enough to take a shot at it tonight."
Arenado said about the only thing that he can do to minimize stress to the injured area is holding the bat more in his hands instead of gripping it with his fingers.
"It's bruised, so if you keep hitting on a bruise, it's going to stay there," he said. "The only way it's going to go away is in the offseason when I put the bat down."
Arenado's played Gold Glove Award-worthy defense at third base and flashed big league offensive talent since he was called up April 28, hitting .268 with 10 homers and 50 RBIs.
Ian McCue is an associate reporter for MLB.com. This story was not subject to the approval of Major League Baseball or its clubs.