Cuddyer hopes to return to game action Sunday
Cuddyer hopes to return to game action Sunday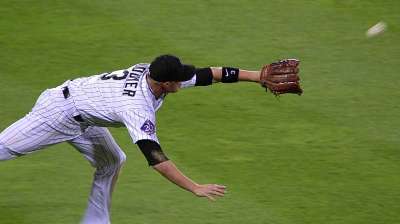 DENVER -- Right fielder Michael Cuddyer, who is tied with the Braves' Chris Johnson for the best batting average in the National League, took a cortisone shot to reduce swelling in his injured left wrist with the hope that he can swing the bat on Saturday and return Sunday.
Cuddyer suffered the wrist injury when he rolled over it while making a diving catch in the sixth inning of Wednesday night's 4-3 loss to the Cardinals at Coors Field. He also suffered a right forearm contusion, but the wrist is the bigger issue because the left hand is at the base of the bat.
"I'll try to swing tomorrow, see how it feels and hopefully I'll get to go on Sunday," said Cuddyer, who took the shot Thursday.
There is no thought on Cuddyer's part of sitting on his average. He was willing to take the painkiller just to play the final six games, even though the Rockies have long been out of playoff contention. Even if he isn't going to hit, manager Walt Weiss could use him as a defensive replacement.
Cuddyer said he is happy that the Rockies, chock full of young players getting opportunities because of numerous injuries, are pushing hard at the finish.
"To beat St. Louis two out of four -- a team that's in the race, playing hard -- that's a good win," he said. "Then to be able to back it up tonight with another good win is another good win," he said of the Rockies' 9-4 victory over the D-backs on Friday.
Johnson went 3-for-4 in the Braves 9-5 victory over the Cubs to pull even with Cuddyer at .331 on Friday.
Cuddyer, who has never hit better than .284 in a season, also has 20 home runs and 81 RBIs this year.
Ian McCue is an associate reporter for MLB.com. This story was not subject to the approval of Major League Baseball or its clubs.