Wright homers in return, passes Piazza
Wright homers in return, passes Piazza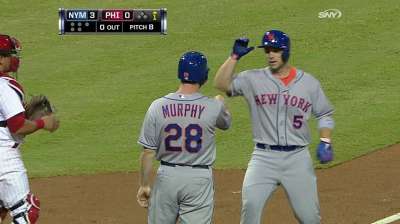 PHILADELPHIA -- For a team that has lacked much buzz over the last two months, the Mets were happy to see the name of David Wright penciled into the starting lineup on Friday night at Citizens Bank Park. Wright, who was sidelined with a right hamstring strain and hadn't been in the lineup since Aug. 2, returned with just 10 games left in the regular season.
"I feel like I've said this a million times but I'll say it again, this is what I do," Wright said. "This is what I love to do. If I'm healthy enough to play, I'm going to play. Therefore, I'm playing, that's as simple as it gets."
In his first at-bat back, Wright belted a two-run homer off Phillies starter Cole Hamels in the first inning to give him 221 for his career, which moved him into sole possession of second place on the Mets' all-time home run list, ahead of Mike Piazza and behind Darryl Strawberry's 252 blasts.
"I think that anytime, especially with Mike being honored next week, to surpass him in a statistical category, you know that you did something right," Wright said after the Mets' 6-4 win over the Phillies. "To be mentioned in any type of sentence with Mike is pretty special. Obviously, he's a Hall of Fame hitter, catcher and one of the best to ever play the game."
Wright gives the Mets -- who had a very young, inexperienced lineup on the field against Hamels -- the type of leader they need as they wind down this season.
"I would just hope that the young players see what he does," manager Terry Collins said. "I tell the guys, some young players, 'If you want to see what it's like to play at this level, just follow [Wright] around. Do what he does.' He does all the stuff he has to do on a daily basis, never misses a day. A lot of times, guys will take a day because they're tired a little bit, but not him.
"That's why we wanted him to come back. Due to who he is, when he said, 'I'm ready to play,' you have to get him in there. I think it's important for our club and organization, but it's important for our fans to get him back in there."
What remains to be seen is just how much the 30-year-old Wright can play. The original plan was to have him play two days and then take a day off, but Collins relented to Wright's desire to keep it on a day-by-day basis. While he won't play all 10 games, Collins is hoping for eight games.
"I feel ready," said Wright, who didn't have the luxury of a rehab game or two with the Minor League affiliates because they are done for the season. "The only way to know if I'm 100 percent ready is to go and play a game. There's not anything else I can do to prepare.
"Once you get in between the lines, second nature takes over. I've done everything to test it and rehab it. I'm [not going to change how I play]. I can't expect to be in the form I usually am at this time of year, but there's no way to get ready for that. The tough part is going from zero to 100."
Michael Radano is a contributor to MLB.com. This story was not subject to the approval of Major League Baseball or its clubs.