Rasmus gets CT scan after freak injury
Rasmus gets CT scan after freak injury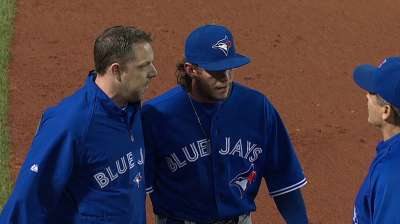 BOSTON -- Blue Jays center fielder Colby Rasmus was sent to a local hospital after he was struck in the face during a freak accident in the first inning of Friday night's 6-3 loss against the Red Sox.
Rasmus was running out to field his position in the bottom of the first, when he was hit in the face by a throw from Anthony Gose. The ball struck Rasmus' left eye, but it wasn't immediately clear how much damage had been done, and the club was awaiting results from a CT scan.
The 27-year-old Rasmus was immediately removed from the game after the bizarre incident and there appeared to be plenty of concern in the Blue Jays' clubhouse over his condition.
"He's in getting a CT scan right now, we'll see what happens," Blue Jays manager John Gibbons said. "It got him right in the eye."
The situation is one that plays itself out before the start of every inning. One outfielder throws the ball to another as they begin to warm up with a brief game of catch while their pitcher goes through the motions on the mound in anticipation of the first batter.
The difference this time was that Rasmus wasn't looking when Gose threw the ball and it struck him in a very unfortunate location. Gibbons speculated that at the very least Rasmus could have a broken nose, but the obvious hope will be that he didn't suffer a concussion on the play.
Gose was understandably emotional during a brief interview with reporters. He appeared to be fighting back tears, and even though it was an accident, Gose certainly appeared to be blaming himself for what happened.
"He's in the hospital, that tells you enough right there," a visibly shaken Gose said. "I thought he was looking at me, tried to throw it to him and it hit him right in the face."
The injury is the latest in a string of recent setbacks for Rasmus. He missed more than a month with a strained oblique injury before returning Sept. 13, then had to miss another game because of general body soreness.
In the five games since his return, Rasmus had four homers, six hits and six RBIs, but didn't get an at-bat Friday night.
Gregor Chisholm is a reporter for MLB.com. Read his blog, North of the Border, and follow him on Twitter @gregorMLB. This story was not subject to the approval of Major League Baseball or its clubs.