Gonzalez to start for O's on Saturday vs. Rays
Gonzalez to start for O's on Saturday vs. Rays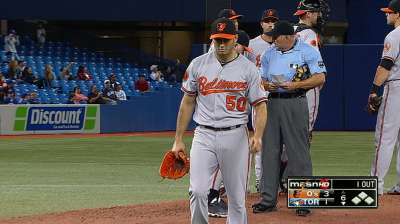 ST. PETERSBURG -- Miguel Gonzalez will start Saturday's game for the Orioles against the Rays.
Manager Buck Showalter waited until two hours before Friday night's game to make his decision.
"He's done well in this venue," Showalter said, in explaining his decision to start Gonzalez.
"I don't feel any pain,"said Gonzalez, who left his start last Sunday in the sixth inning with a right groin strain. Gonzalez threw a bullpen session on Thursday and worked out again before Friday's game.
"I'm ready to go when they tell me," Gonzalez said. "I want to be on the mound anytime I can. That's what we're here for."
Gonzalez is 2-2 with a 3.86 ERA in his career against the Rays, and 2-0 with a 0.92 ERA in three starts at Tropicana Field.
The Orioles originally planned to have Bud Norris available to pitch in relief on Saturday if Gonzalez ran into trouble, but Norris was called on for 2 1/3 innings during Friday night's 18-inning loss against the Rays.
Scott Feldman is scheduled to start Sunday against the Rays, and Wei-Yin Chen is due to pitch Monday.
Showalter reiterated Friday that one Orioles starter might have to leave the team this weekend because of a family illness.
Jim Hawkins is a contributor to MLB.com. This story was not subject to the approval of Major League Baseball or its clubs.