A's on verge of division title after rout of Twins
A's on verge of division title after rout of Twins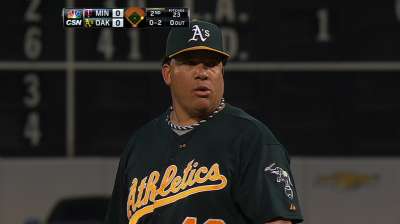 OAKLAND -- Josh Donaldson might be going goggle shopping, but the A's are canceling all other Saturday night plans.
See, if all goes their way and they beat the Twins for a third straight day, after routing them, 11-0, on Friday night to drop their magic number to two, the A's will likely stick around the clubhouse for a viewing party of the Rangers' evening affair in Kansas City.
If Oakland wins and Texas loses, the American League West is theirs for a second straight season.
"Who knows? I could see it happen. It's a long time to wait, though, so we'll see," said Jed Lowrie. "Going to the playoffs, it doesn't matter when you celebrate. Getting the opportunity to go is what it's all about."
"I haven't thought about it at all," said Donaldson. "I guess we'll see what happens tomorrow. The earlier we can do it, the better."
The A's didn't clinch the division until the final day of the season last year. This year, it's not a matter of if they'll celebrate, but when, allowing them to prepare for the champagne showers.
"I plan on actually getting goggles this year, because last year my eyes were burning," Donaldson said, smiling. "Besides that, we still have to go out there and take care of business. We understand that. We want to continue playing good baseball up to the playoffs."
"Let's not put the carriage in front of the horse," advised Lowrie. "Let's just win tomorrow and take it from there."
The A's hadn't even completed three innings of their shutout of the Twins by the time they learned of the Rangers' loss in Kansas City, which reduced their magic number to three. By that time, they also had a three-run lead.
They wanted more.
The A's would exhaust a woeful Twins defense for six more runs in the next three innings, five unearned. Donaldson got them to double digits with a two-run homer in the sixth. Bartolo Colon breezed his way through six scoreless innings. And they found themselves 28 games over .500 for the first time since finishing the 2003 season with a 96-66 record.
Colon continued a remarkable season by notching his 17th victory, becoming just the 11th 40-year-old in Major League history with as many wins. He has a 2.64 ERA on the season, including a 0.90 mark since coming off the DL on Aug. 29, allowing just three earned runs in 24 innings with 26 strikeouts and one walk in that span.
Oakland's right-hander was his usual strike-throwing self on this night, scattering only five hits with one walk and eight strikeouts while his teammates piled on the runs.
"Real similar to what we saw the last time out, which is really good to see," manager Bob Melvin said. "We're seeing the movement again, we're seeing the velocity coming back. We were able to give him a little bit of a break with the DL. We're seeing a guy that's really hitting his stride again after a little bit of a down period, but if you look at his overall numbers, he's having a sensational season."
Yoenis Cespedes, too, has hit his stride. Just two days after receiving a cortisone shot for his ailing right shoulder, the Cuban slugger jump-started Friday's brigade with a leadoff homer in the second, and by inning's end the A's would have two more runs. Cespedes has five homers in September.
Minnesota's Oswaldo Arcia lost Derek Norris' liner in the lights, and the A's catcher was awarded a double. Josh Reddick brought him home on an infield base hit and came around to score on yet another misplayed ball by Arcia, who allowed Barton to reach third on a single.
Norris later singled in the fourth and found himself on third base after catcher Chris Herrmann's throw to second on his stolen base sailed into the outfield. Alberto Callaspo proceeded to drive him home on a base hit.
Minnesota's misfortunes escalated in a five-run fifth, when starter Andrew Albers nearly got out of a bases-loaded jam by inducing a ground ball from Chris Young that third baseman Eduardo Escobar threw away, clearing the bases with Young left on second.
He, too, scored on another RBI hit from Callaspo. Reddick followed with a single, and a wild pitch by Ryan Pressly allowed Callaspo to score.
"They made a few miscues, and I think the important part is we were able to take advantage of it," Donaldson said. "We've been scoring a lot of runs lately, and it's one thing to score runs and do it early as we have been, but I feel like throughout the game we continually add runs on, and that's even more important."
Now they sleep, in anticipation of what could be a long, festive day.
"Everybody knows the situation in the clubhouse," said Lowrie. "No one's hiding from it, but I also think it's important to maintain your focus on the task at hand with the knowledge of what's at stake and where we are. I think that should make us better."
Jane Lee is a reporter for MLB.com. This story was not subject to the approval of Major League Baseball or its clubs.