Albers unable to overcome Twins' miscues on defense
Albers unable to overcome Twins' miscues on defense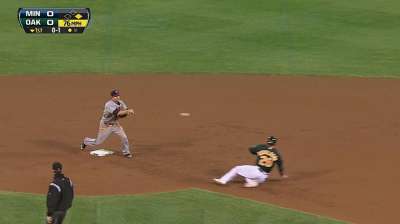 OAKLAND -- While the Twins can't control running into one of the AL's hottest pitchers or one of the league's most powerful lineups, they can control their play in the field. On Friday night, their defense stacked the deck in their opponent's favor.
Much of the responsibility for Minnesota's 11-0 loss to the A's on Friday at O.co Coliseum rests on the sloppy defense. The problems in the field began in a three-run second inning.
"We threw the ball around, missed the ball, had some trouble in the outfield early and every time we missed a play they took full advantage of it," Twins manager Ron Gardenhire said. "Not very much fun for us in our dugout."
Oswaldo Arcia, a stalwart on the offensive side, misplayed two balls that aided in the A's already potent attack. He lost a line drive off the bat of Derek Norris in the lights for a double and later misplayed Daric Barton's single that allowed Barton to reach third and Josh Reddick to score from first base.
Arcia's miscues -- along with Eduardo Escobar's throwing error that allowed three runs to score in the fifth -- proved too damaging for starter Andrew Albers, who left after 4 2/3 innings, trailing 7-0 despite having yielded just three earned runs.
Of the 11 runs scored by the A's, just six were earned as the Twins committed four errors -- the most they've made in a single game since Oct. 1, 2009. The loss dropped Minnesota to 1-4 on its final road trip of the regular season. The Twins have fallen in 12 of their last 16 games dating back to Sept. 4.
Oakland's magic number to clinch its second straight American League West title is now at two.
"They got a lot of talent over there and they play hard and they play as a cohesive unit, which makes them tough to pitch to," Albers said. "They do a great job and there's a reason they are where they are and they're playing really well right now."
Albers is now winless over his last seven starts, and he's pitched two consecutive games lasting fewer than five innings.
He cited Norris' ability to draw a hit-by-pitch on an 0-2 count with two outs in the fifth as a crucial at-bat in the game. The plunking loaded the bases before the wheels fell off in the frame.
"He did a great job holding his ground. I missed up a little bit -- it wasn't that far inside -- but he had enough courage to hold his ground and take the hit-by-pitch," Albers said. "That's winning baseball, and that's why those guys are where they're at right now."
"Unfortunately for him, if we just make a couple of plays behind him it's a different story," Gardenhire added. "We're still in the ballgame. But you got to make plays."
A's starter Bartolo Colon, meanwhile, stifled the Twins through six shutout innings, striking out eight and walking one to become the 11th 40-year-old in American League history with at least 17 wins.
Not that Minnesota was without its chances. The Twins placed runners in scoring position in four of Colon's six innings, yet plated none of them, finishing the game 0-for-8 with runners in scoring position.
"Colon pretty much dominated us," Gardenhire said.
"Bartolo was absolutely phenomenal," said A's third baseman Josh Donaldson, who went 2-for-3 with a two-run home run in the sixth. "They also made a few miscues, and I think the important part is we were able to take advantage of it. We've been scoring a lot of runs lately, and that's going to take some pressure off the pitching. It's one thing to score runs and do it early as we have been, but I feel like throughout the game we continually add runs on, and that's even more important."
Jeff Kirshman is an associate reporter for MLB.com. This story was not subject to the approval of Major League Baseball or its clubs.