Crew unsure if Nelson will start before season's end
Crew unsure if Nelson will start before season's end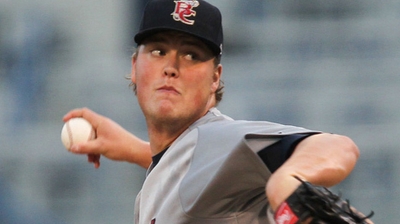 MILWAUKEE -- Brewers manager Ron Roenicke has made it clear he wants to get Jimmy Nelson a start before season's end. On Friday, though, Roenicke said depending on what happens in the next week, that may not be in the cards.
"We'll just go through this here and see where we are after this series," Roenicke said. "Even though I gave what we're planning to do, that can change."
The Brewers have Johnny Hellweg, Yovani Gallardo and Wily Peralta on the mound against the Cardinals at Miller Park this weekend, and they announced Marco Estrada, Tyler Thornburg and Kyle Lohse as their starters in Atlanta starting Monday.
That leaves a season-ending, four-game series in New York as the Brewers' final chance to see Nelson, the top prospect in the organization according to MLB.com.
"Hey, he may not get a start," Roenicke said. "I'm not going to say he's getting a start. He may not. If things don't work out the way we want them to, he may not."
Nelson, a 6-foot-5, 245-pound right-hander, entered Friday with five scoreless innings out of the Brewers' bullpen since his September callup. He went 5-6 with a 3.67 ERA in 15 starts at Triple-A Nashville this year. Prior to his promotion at Nashville, Nelson went 5-4 with a 2.74 ERA in 12 starts at Double-A Huntsville.
Kevin Massoth is an associate reporter for MLB.com. This story was not subject to the approval of Major League Baseball or its clubs.