Machado at leadoff as O's shake up lineup
Machado at leadoff as O's shake up lineup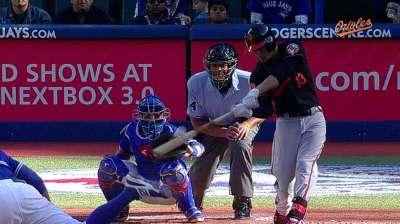 ST. PETERSBURG -- Manny Machado batted leadoff Friday night as Orioles manager Buck Showalter shook up his lineup for the opening game of this critical four-game showdown against the Rays and their ace left-hander David Price. The last time Machado hit first he was a senior in high school.
"Just another day in baseball," said Machado, who normally bats second. "It's going to be fun."
Adam Jones, usually the Orioles' cleanup hitter, batted second.
"It's Showalter being Showalter," Jones said by way of explanation. "I'm hitting No. 2 today. That's cool."
Danny Valencia, who has hit everywhere from fifth to ninth since joining the O's and has been swinging a hot bat of late (.444 in his last 18 games, with eight doubles, four homers and 13 RBIs), batted cleanup for the first time.
"It's just nice to be in the lineup in general," he said. "I'll approach it the same way I would hitting anywhere else in the lineup. It's a good lineup."
"Every once in a while you need a little blank in the giddy-up," explained Showalter when asked about the unusual lineup.
"I know our guys are all talking about it," Showalter said. "But we've got the same people playing. I'm trying to take advantage of our skills."
"I'm sure [Showalter] has his reasons," said Jones. "I'm not going to ask his reasons. Nobody is going to change nothing. Everybody keeps the same approach."
"Why would I change now?" asked Machado, who leads the league with 51 doubles, second most in Major League history by a player 20 years of age or younger. "I've done the same thing for 152 games.
"Buck always has his way. He does things for a reason. He doesn't just go out and do things. He always has his reasons."
Asked if he planned to employ the same batting order on Saturday, Showalter said, "We'll see where it is tomorrow."
Baltimore entered Friday two games back of the Rays and Rangers in the American League Wild Card chase.
Jim Hawkins is a contributor to MLB.com. This story was not subject to the approval of Major League Baseball or its clubs.