Ellsbury begins baseball activities; Victorino late scratch
Ellsbury begins baseball activities; Victorino late scratch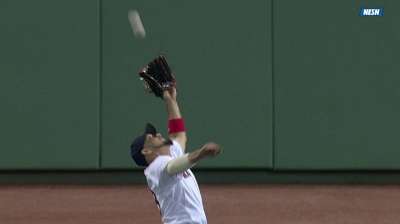 BOSTON -- Jacoby Ellsbury began baseball activities on Friday as he makes his way back from a compression fracture in his right foot.
Meanwhile, Shane Victorino was a late scratch from the Red Sox lineup with a jammed right thumb.
Two center fielders down, the Red Sox turned to Jackie Bradley Jr. for another game as the club opened a three-game series with the Blue Jays at Fenway Park. The Sox should get their All-Stars back soon.
While there's no timetable on Ellsbury's return, the fact that he swung off a tee and was throwing during pregame warmups was a positive sign for him.
Victorino was trying to do the same, but his thumb began acting up while swinging. He put a pad on his hand to protect from the pain and tried to talk his way back into the lineup, but manager John Farrell preferred he sit out another day.
"As he's been dealing with a number of things, yeah, this isn't something that's going to keep him out for a long period of time," Farrell said.
The hamstring and back injuries that Victorino had been fighting have subdued. And with off-days built into the schedule down the stretch, there will be time to recover.
"He's a tough player, he does have a high pain threshold," Farrell said. "Seemingly inside of games where something will arise, he'll go get some work done on something and find his way back out, so he's good to go. But it's not uncommon as we've talked about before, this time of year guys are going to be banged up somewhat.''
Jason Mastrodonato is a reporter for MLB.com. Follow him on Twitter @jmastrodonato. This story was not subject to the approval of Major League Baseball or its clubs.