Hoping to party, Braves watch Nats at Wrigley
Hoping to party, Braves watch Nats at Wrigley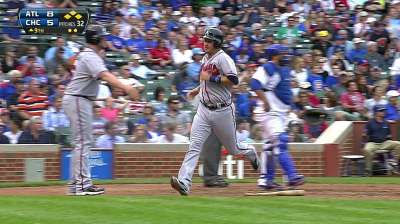 CHICAGO -- After putting themselves on the cusp of a division title with a 9-5 win over the Cubs on Friday afternoon, Braves players, coaches and front-office personnel decided to stay at Wrigley Field -- or at least within the vicinity -- to watch the Marlins and Nationals play.
If the Marlins beat the Nationals, the Braves will clinch the National League East. A Nationals victory would simply force the Braves to wait at least one more day to celebrate their first division title since 2005.
With the magic number at one, the Braves will win the division with one more victory or one Nationals loss.
The Braves are hoping for the opportunity to pop champagne bottles and celebrate before leaving Wrigley Field tonight.
"This is why we play the game," Braves third baseman Chris Johnson said. "Hanging out, watching the game and getting ready to go nuts. I'm excited."
The Cubs have agreed to keep one of the stadium's restaurants open so the Braves and their family members can watch the game away from the small confines of the visitor's clubhouse.
Mark Bowman is a reporter for MLB.com. This story was not subject to the approval of Major League Baseball or its clubs.