Lefty Danks shut down for remainder of 2013 season
Lefty Danks shut down for remainder of 2013 season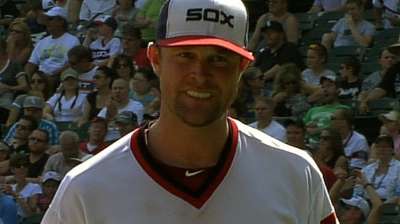 DETROIT -- John Danks pitched well on Wednesday, but the White Sox will likely make it his last start of the season.
Manager Robin Ventura said Danks probably won't pitch in the last week of the season after recovering from a shoulder surgery.
"He's pitched a lot from Spring Training on," Ventura said. "Even before Spring Training, what he was doing to get to Spring Training. We were kind of rushing him along this year and so he's done his work is the way I look at it. Right now, he needs to rest and kind of get back his strength and go."
Danks allowed four runs on seven hits in seven innings on Wednesday against the Twins. He owns a 4-14 record with a 4.75 ERA and 89 strikeouts in 138 1/3 innings this season.
"Nobody remembers Danks has been throwing since like last September to try and come through," pitching coach Don Cooper said. "We pulled the plug on him because there's no more to gain."
Bobby Nightengale is an associate reporter for MLB.com. This story was not subject to the approval of Major League Baseball or its clubs.