Ventura enjoys managing, wants to continue
Ventura enjoys managing, wants to continue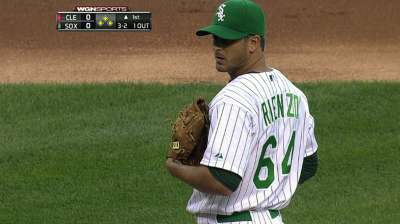 DETROIT -- Although the White Sox have struggled throughout the season, Robin Ventura's desire to continue managing has not wavered.
Ventura said he would like to continue managing the team after his original three-year contract expires, following the 2014 season, if general manager Rick Hahn and chairman Jerry Reinsdorf make the decision to bring him back.
"If they want me to do this, I'd like to do it," Ventura said. "Both sides kind of have to be in agreement on that to make it happen. I think the way I got the job, it's fair that at the end of three, you can look at it again and see if they still think I'm the right guy to do it.
"I can envision doing more, I'd like to do more. We'll get to that after next year."
The club's 93 losses are its most since the same number in 1976. Ventura said the losing does take its toll, but that doesn't mean he doesn't enjoy managing.
"You don't enjoy the losing, but nothing is guaranteed. If you like the job, like coming here every day and doing what you're doing, take the winning and losing out of liking the job, I like the job. I enjoy coming here every day, but the losing part does wear on you. It's not fun, but again the idea is to change that. Trying to figure out a way to do that is a part of the fun."
Bobby Nightengale is an associate reporter for MLB.com. This story was not subject to the approval of Major League Baseball or its clubs.