Masterson, Tribe set to talk return after bullpen session
Masterson, Tribe set to talk return after bullpen session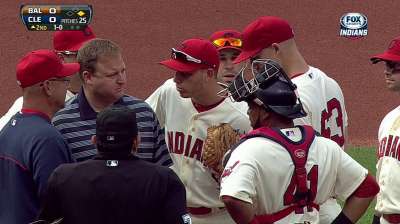 CLEVELAND -- If the Indians' pursuit of a postseason spot comes down to the final day or two of the season, they might have a valuable weapon available to them once again.
Indians rotation leader Justin Masterson threw a 33-pitch bullpen session Friday with no lingering effects from his strained left oblique, which he injured on Sept. 2 during a start against the Orioles. Masterson will rest on Saturday, and Cleveland's decision-makers will sit down with the pitcher to go over potential scenarios for his return.
"We're trying to figure out the best way to go about things," Masterson said. "We need to be smart about coming back and being ready in case we make the playoffs."
Barring any setbacks, Cleveland could bring Masterson back before the end of the regular season, but pitching coach Mickey Callaway said the right-hander might only be able to throw up to four innings. The Indians could also try to give Masterson a shorter appearance -- possibly in relief -- to get him game action against hitters in preparation for a possible playoff start.
"But we're not guaranteed the postseason," said Masterson, who is 14-10 with a 3.52 ERA in 189 1/3 innings. "So I definitely want to help in any way I can. I don't want to start and go three innings. That's not going to help the team out, if that's the case. Those are kind of the options I'm sure we'll be searching through to see what is best."
Indians manager Terry Francona noted he plans on meeting with general manager Chris Antonetti, Callaway, the team's medical staff and Masterson to discuss the next step. Masterson will likely throw a simulated game Monday or Tuesday regardless of when they plan to bring him back, according to Callaway.
"He got after it, which was really exciting," Francona said of Masterson's mound session. "I think common sense says let him come back [Saturday] and see how he feels, get re-evaluated just to make sure there's nothing lingering, and then we'll sit down and talk through it."
For now, Masterson and the Indians are extemely encouraged by his swift improvement.
"My hopes and prayers were that it would be quicker," Masterson said. "It wasn't the four days it took Jesus to raise Lazarus from the dead, but two and a half weeks for him to touch Justin's side. It's definitely been a speedy process. Everyone's been working hard."
Jordan Bastian is a reporter for MLB.com. Read his blog, Major League Bastian, and follow him on Twitter @MLBastian. This story was not subject to the approval of Major League Baseball or its clubs.