Soria happy Royals are enjoying success
Soria happy Royals are enjoying success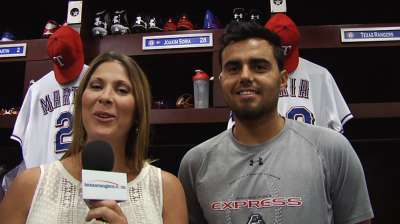 KANSAS CITY -- Of all things, the first year that Joakim Soria is no longer with the Royals they're in contention for a postseason berth.
"They got good by subtraction," Soria joked, laughing.
Actually, he's not surprised.
"We know that the Royals have really good talent and they were growing up baseball-wise in life, and they pulled all that together and they're playing for the Wild Card," Soria said.
Oddly enough, Soria's new home, Texas, is one of the teams the Royals are trying to pass in their bid for the two American League Wild Card spots. And they're squaring off this weekend at Kauffman Stadium.
Soria's brilliant career as Kansas City's closer ended after Tommy John surgery in Spring Training 2012. He missed the season, signed as a free agent with the Rangers and returned to the Majors with a scoreless inning last July 7.
"I'm pitching more consistently now, and I'm feeling better and it's all good," he said. "I have confidence in all my pitches now so I'm ready to compete."
Soria arrived for his first series as a visitor with 22 appearances, no record and a 3.10 ERA, primarily as a seventh-inning setup man.
"It's really weird," he said. "I've never been to this side of the field. I had to find all the things in the clubhouse and the weight room so it's kind of funny, but that's baseball, it's my career and now I'm in another family."
Soria took time on Friday to have lunch with two friends from his Royals days, Bruce Chen and fellow Mexican Luis Mendoza.
In the closer department, the Royals have come up with a stellar replacement in one of Soria's old bullpen buddies, Greg Holland.
"I told you. That guy has an amazing talent," Soria said. "I talked to him a couple of minutes ago. They're all good and I'm really happy for them."
Dick Kaegel is a reporter for MLB.com. Kathleen Gier is an associate reporter for MLB.com. This story was not subject to the approval of Major League Baseball or its clubs.