Pirates do homework on speedster Hamilton
Pirates do homework on speedster Hamilton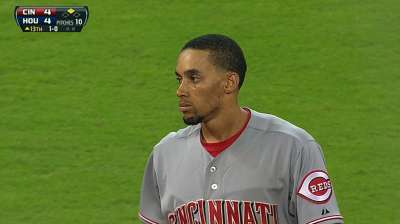 PITTSBURGH -- To paraphrase an infamous quote from the 1988 vice-presidential debate, Clint Hurdle made the point Friday afternoon that, "I knew Herb Washington, and Billy Hamilton is no Herb Washington."
The Cincinnati Reds' "secret weapon," Hurdle knows, brings a lot more than did Charlie Finley's baserunning specialist of the Oakland A's of the mid-'70s -- who stole 48 bases and never had a plate appearance.
"I was still playing the game when Herb Washington was in," the Pirates' manager said prior to Friday night's game, "and [Hamilton] is not just a track star. He's a baseball player who can steal bases. This guy is a good young player."
Hamilton, one of the Reds' callups to the expanded September roster, had four steals before his first Major League at-bat -- then went 3-for-4, with four more stolen bases, in his first start Wednesday.
Yes, Hurdle conceded, the Pirates have crammed for Hamilton.
"We got the video tape, spent an afternoon breaking it down," Hurdle said. "We talked to our Triple-A guys who played a volume of games against him. We put a program together ... pitchers, catchers, fielders, everyone included. We're ready; we definitely did our research. We'll see how it plays out."
One potential edge, however slight: Only two of Hamilton's nine steals have come with a left-hander on the mound. The Pirates started Francisco Liriano on Friday and will have Jeff Locke going on Sunday -- plus a trio of southpaws (Tony Watson, Justin Wilson, Kris Johnson ) in the bullpen.
Tom Singer is a reporter for MLB.com and writes an MLBlog Change for a Nickel. He can also be found on Twitter @Tom_Singer. This story was not subject to the approval of Major League Baseball or its clubs.