V-Mart's hot bat pushes him above .300
V-Mart's hot bat pushes him above .300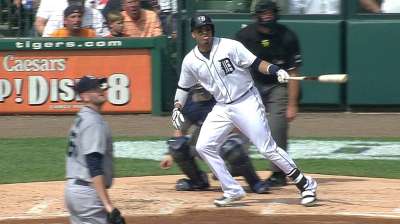 DETROIT -- Three months ago, when Victor Martinez was batting .226, nobody could've imagined an opposing manager wanting to pitch around him. His old manager, current Mariners skipper Eric Wedge, intentionally walked him three times in two days and had no qualms about it. Then he watched Martinez produce a go-ahead hit the one time he couldn't walk him in the seventh inning Thursday.
That hit didn't just put the Tigers on top for a victory, it put his average over the .300 mark. He ended the day batting .301, the first time all season he has ended a game over the .300 mark. He briefly topped .300 mid-game on Aug. 31, having entered that game batting .299 before hitting a single his first time up, but spent most of September with his average in the .290s.
Martinez's 2-for-2 performance Thursday, and his 5-for-12 series, finally pushed him above the threshold.
"He's a professional hitter," teammate Torii Hunter said after the game. "He waits for his pitch, and if he gets one in the zone where he's looking, he's going to capitalize on it. He's been doing it all second half."
Martinez went 2-for-3 with a two-run homer in Friday's 12-5 victory to up his average to .302.
Martinez has up to eight more games to keep it up. It could come down to Detroit's season-ending three-game Interleague series in Miami, where there will be no designated hitter slot. He'll likely catch at least one of the games, but it would be a surprise if he played in all three.
Jason Beck is a reporter for MLB.com. Read Beck's Blog and follow him on Twitter @beckjason. This story was not subject to the approval of Major League Baseball or its clubs.