Rangers slip to third spot in Wild Card chase
Rangers slip to third spot in Wild Card chase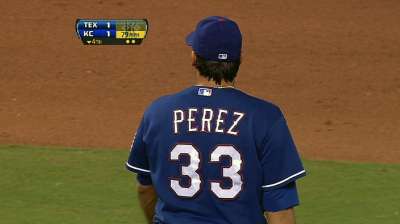 KANSAS CITY -- The Rangers, with some key relievers needing a break after a tough four-game series in Tampa Bay, finally put former All-Star closer Neftali Feliz into a high-pressure situation.
But, as the American League Wild Card race becomes increasingly tight with each passing day, Feliz wasn't able to get it done and the Rangers edured a tough 2-1 loss on Friday night.
Feliz walked in the go-ahead run in the bottom of the eighth inning in the series opener at Kauffman Stadium.
The Rangers are now in third place in the Wild Card race. The Rays are leading after beating the Orioles in 18 innings, giving them a half-game lead over the Indians and one game over the Rangers.
"I'm not worried about Cleveland moving ahead of us," Rangers manager Ron Washington said. "I'm worried about winning a ballgame every night from here on out. We didn't win tonight so we have to come back tomorrow."
Rangers starter Martin Perez and Royals counterpart Ervin Santana pitched to a 1-1 standoff through six innings. Neal Cotts, after getting the last out in the sixth, retired the Royals in order in the seventh so Washington called on Jason Frasor for the eighth. Washington didn't want to use Tanner Scheppers, who had pitched three straight nights in Tampa Bay.
"The only way we use Scheppers is if it were extra innings," Washington said. "He said he was available if necessary. I felt that was the only way we were going to use him. Other than that, I can't hurt the kid."
Frasor has been just as good as anybody else in the bullpen. He entered Friday having allowed one run in his last 12 games and had a 1.99 ERA in his last 36 games. Frasor had also retired 44 of his last 58 batters and started the eighth by striking out the first two batters.
Then, Lorenzo Cain bounced a single up the middle and Mike Moustakas flared a single to left just beyond shortstop Elvis Andrus. With runners at the corners, left-handed hitter David Lough pinch-hit for Justin Maxwell. Frasor got ahead 1-2 in the count, but Lough fouled a couple of tough pitches off and ended up drawing a walk to load the bases.
"It started out good, but then a couple of basehits and it got interesting," Frasor said. "The guy I walked, it was a battle. I threw a lot of changeups and lost the feel of my fastball and couldn't get it back. Then, he laid off the last one."
At that point, Frasor had thrown 30 pitches so Washington brought in Feliz to face Alcides Escobar, the Royals' shortstop and No. 9 hitter. It was Feliz's sixth appearance since coming off the disabled list after missing 13 months because of Tommy John surgery.
"It stinks getting taken out and having to sit there and rely on somebody else," Frasor said. "That was a tough spot for Neftali."
Feliz came in and walked Escobar on four fastballs that weren't close and Joseph Ortiz had to come on to get the Rangers out of the inning. It was only Feliz's second walk in 21 batters faced since his return.
"I felt fine, I felt 100 percent," Feliz said. "I'm frustrated that I wasn't able to locate the ball where I wanted, but it's part of the game. I've got to keep my head up and try again tomorrow."
Escobar entered the game averaging one walk every 34.06 plate appearances. That was the second highest in the American League.
"That just tells you not any of the pitchers were near the strike zone," Washington said. "Frasor had thrown [30] pitches. He had thrown a lot of pitches. I thought Neftali could throw strikes to Escobar. He just couldn't do it."
"I was waiting for a strike because I hadn't seen that guy for a long time," Escobar said. "When I walked to home plate to hit, I was going to take one strike anyway. It doesn't matter if he throws me a fastball down the middle, I'll take one strike. He came from the DL and before that he threw like 99, 100 [mph] and now he throws 92, 94. I wanted to see his pitches come in."
Both starters were terrific. Santana held the Rangers to one run on five hits and a walk with four strikeouts, while Perez held the Royals to one run in 5 2/3 innings. He wasn't as dominating Santana, as he allowed seven hits, four walks and hit a batter. He also did not have a single 1-2-3 inning, but the Royals were 1-for-6 with runners in position against him.
Perez got a scare after giving up a two-out single to Eric Hosmer in the fifth. Billy Butler followed with a line drive up the middle that hit Perez on his left forearm and bounded away for an infield single. The ball hit Perez about four inches from the spot where he sustained a fractured left arm on a line drive in Spring Training.
This time, after a visit from trainer Kevin Harmon, Perez was fine and he stayed in the game, retiring Salvador Perez on a line drive to end the inning.
"I knew it didn't hit me that hard," Perez said. "It hit me in the muscle. I wanted to finish my inning and keep pitching."
T.R. Sullivan is a reporter for MLB.com. Read his blog, Postcards from Elysian Fields, and follow him on Twitter @Sullivan_Ranger. This story was not subject to the approval of Major League Baseball or its clubs.