Pirates give win away in stunning twist, fall in 10th
Pirates give win away in stunning twist, fall in 10th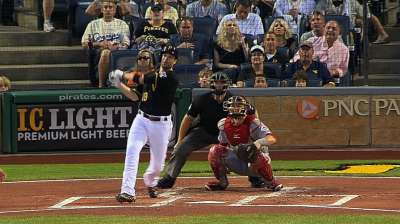 PITTSBURGH -- It is only 1/27th of a regulation baseball game. But the 27th out is more difficult than the other 26 put together. Not just for the closer, a baseball team's paramedic. But for whomever the ball is hit to.
Neither Mark Melancon nor shortstop Jordy Mercer handled it well Friday night and, as a result, the Cincinnati Reds, like 36 cat burglars, stole their way out of PNC Park with a 6-5 win in 10 innings.
"We won that game, we should've won that game, that was our game to win," said Melancon. "It's late, obviously, but it's one game -- and it doesn't kill us."
"We believe in everyone in here," Neil Walker said. "But we feel we're at the point we need to find ways to close out games like that."
The ultimate blow was delivered by Joey Votto, a homer with one out in the 10th off Kyle Farnsworth. However, Votto's 24th homer -- an opposite-field liner into the left-field corner -- merely confirmed what felt inevitable after a nightmarish ninth.
Anyone from the crowd of 37,940 who left just a tad early -- and there were plenty traffic-beaters -- will have a hard time believing that outcome, which drew the Reds even with the Pirates for the Wild Card lead and second place in the National League Central. They reside two games behind the first-place Cardinals, who defeated the Brewers, 7-6, in 10 innings Friday night.
With two outs and one man on in the ninth, the Bucs held a 5-2 lead.
Left-hander Francisco Liriano had thrown three-hit ball through eight innings, including his 1,000th career strikeout in the latest gem of an award-worthy comeback season, but had his 17th victory thrown away in the ninth by Mercer, whose two-out throwing error opened the gates to a three-run game-tying rally by the Reds.
Protecting the 5-2 lead, Melancon had gotten two outs around Ryan Ludwick's single when Todd Frazier hit an uncomplicated roller to Mercer.
Mercer's throw sailed wide of first base, allowing Ludwick to score and prolonging the inning.
"I tried to rush the throw," said Mercer, who acknowledged no real need to do so. "We played these guys a bunch, so I know his [Frazier] runs. I just didn't get a grip on it. It's the same play I've made a hundred times. It just wasn't a good throw. Obviously, if I make a good throw there, the game is over. All that other stuff that happened, would've never happened."
Zack Cozart singled Frazier to third and was replaced by pinch-runner Billy Hamilton, who promptly stole the tying run into scoring position.
When Devin Mesoraco concluded an extended battle with Melancon -- including four two-strike fouls -- by bouncing a ball wide of third that Pedro Alvarez boxed away, both runners scored to make it 5-5.
"I really just went up there and just started battling my [butt] off, that's it," Mesoraco said. "That was my only goal -- to go up there and battle, battle, and hopefully he'd leave one over the plate I could put a half-decent swing on and hopefully find a hole."
"That was a big-time duel," said Pirates manager Clint Hurdle, who had watched it on TV after having drawn an eighth-inning ejection. "He was leaning out over the plate, continually fouling off tough pitches. Finally, [Melancon] tried to run a ball in -- from my perspective on TV -- and he got enough of it, Pedro laid out for it and got a glove on it, but only to deflect it into no-man's land."
"Balls hit in the right places ... I don't know what else to tell you," said Melancon, trying to be helpful and explain the inexplicable.
The game began unlike any other ... well, like only three others in the Pirates' 19,315-game history.
Jose Tabata pulled Mat Latos' third pitch into the left-field seats. And Walker deposited the very next pitch in the right-center bleachers.
Back-to-back leadoff homers had happened thrice before in the club's history, most recently not that long ago: On April 17, 2011 -- in Cincinnati -- Andrew McCutchen had opened with a homer and was followed by Tabata. The interesting thing there is that Tabata, who set a single-season high with his sixth, has only 17 career homers, but two of them figured in those rare feats.
In a flash, the two bombs overcame the Reds' run in the top of the first, on Ludwick's two-out RBI single.
The Pirates stretched out to a 4-1 lead in the fourth, the centerpiece of the rally being a hit-and-run single by Alvarez that chased Marlon Byrd, who had walked, to third. Then followed RBI singles by Russell Martin and Mercer, the latter's a dribbler to third he easily beat out as Alvarez came in.
Those add-on runs made sure the Bucs would still have the lead after Frazier led off the fifth with his 17th homer, into the center-field bushes, snapping Liriano's string of 10 straight retired batters.
Liriano's vulnerability did not last long. He continued dealing, and rationing pitches. Even with three walks thrown in, he needed only 80 to get through seven innings.
Most of those pitches were so challenging, Jay Bruce, one of Cincinnati's top power threats and a left-handed one who certainly can stand up to southpaws -- he took the Dodgers' Clayton Kershaw deep twice in one game earlier this month -- waved a figurative white flag. Leading off the seventh, Bruce tried something he rarely does: To bunt his way on base; Liriano pegged him out.
Although Liriano had thrown a modest total of 94 pitches, bench coach Jeff Banister, the acting manager in the wake of Hurdle's ejection, went with the book-move in the ninth, calling for Melancon. Two nights earlier, Melancon had blown his first save opportunity in five weeks as the Padres rallied for two runs in the ninth and a 3-2 win over the Bucs.
"[Liriano] was fantastic. At the end of the eighth, he said he'd laid it all out there," said Hurdle, quickly adding of Banister's moves, "nothing that I would've done any different."
Tom Singer is a reporter for MLB.com and writes an MLBlog Change for a Nickel. He can also be found on Twitter @Tom_Singer. This story was not subject to the approval of Major League Baseball or its clubs.