Dempster switching from rotation to bullpen
Dempster switching from rotation to bullpen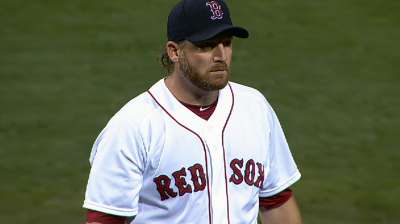 BOSTON -- Ryan Dempster is heading to the bullpen.
Red Sox manager John Farrell announced Friday that Dempster, who has a 4.64 ERA in 29 starts this season, will pitch out of the 'pen for the remainder of the season. With Jon Lester, Clay Buchholz, Jake Peavy, John Lackey and Felix Doubront also in the rotation, there was no longer a need for a sixth starter. Farrell said Doubront could join Dempster in the bullpen after his scheduled start Sunday.
With his high strikeout rate (8.3 per nine innings) and a devastating splitter that can present ground balls almost on cue, Dempster makes for an intriguing option as a one- or two-inning reliever.
He'll likely have a few low-leverage outings before the regular season is over, but he could become an option in the late innings leading into closer Koji Uehara. Lately, those innings have been primarily filled by lefty Craig Breslow and righty Junichi Tazawa.
"[Dempster] won't be there to be the long guy," Farrell said. "First and foremost, we have an opportunity to get some appearances before the regular season finishes out. Inside that, we'll have a better read on his comfort, see how his stuff potentially plays up a little bit in one- or two-inning stints and if that's the case, we'll pick our spots as we move forward.''
From 2005-07, Dempster served as the Cubs' closer, collecting 85 saves. In his career, Dempster has a 4.11 ERA as a reliever, compared to a 4.38 ERA as a starter.
Farrell said Dempster's experience out of the bullpen was a big factor in the decision.
"Compared to someone who hasn't, it's a huge advantage," Farrell said. "As is his attitude, that's probably the biggest thing that stood out to me in meeting with him. He sees the reason for it, understands there was a need to trim back by one starter and he's looking forward to the opportunity."
Jason Mastrodonato is a reporter for MLB.com. Follow him on Twitter @jmastrodonato. This story was not subject to the approval of Major League Baseball or its clubs.