Zimmermann throws gem, but Nats can't gain ground
Zimmermann throws gem, but Nats can't gain ground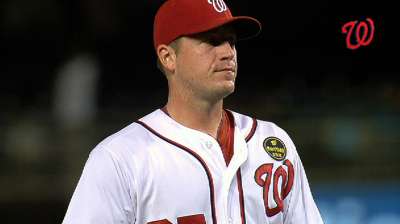 WASHINGTON -- Right-hander Jordan Zimmermann was dominant, pitching a two-hit shutout with nine strikeouts and keeping the Nationals' Wild Card hopes alive, as they pounded the Marlins, 8-0, at Nationals Park on Friday night.
Washington remains five games behind the Reds and Pirates in the National League Wild Card race. The Reds defeated the Pirates, 6-5, in 10 innings at PNC Park.
"We are not mathematically out of it. You have to keep fighting until the end. Hopefully one of those two teams tank it," Zimmermann said.
Zimmermann got off to a strong start against Miami, striking out eight of the first 13 hitters he faced. He had a no-hitter going until the sixth, when Donovan Solano singled to center on an 0-2 pitch with two outs.
"That was the only bad pitch he made. Solano is a good fastball hitter and Zimmermann left one up there for him," Nationals manager Davey Johnson said. "He had two strikes on him and I think it was poor pitch selection."
Zimmermann won his National League-leading 19th game and had his fourth complete game and second shutout of the season. Johnson knew from Zimmermann's first pitch that he wasn't going to be denied.
"He was going right after them. He was throwing hard. His slider was going 88-89 [miles per hour]. It was just overmatching stuff," Johnson said about Zimmermann's performance. "In the ninth inning, he was still bringing it. It was very impressive. It was needed for our bullpen."
Zimmermann's outing reminded teammate Jayson Werth of Game 4 of the National League Division Series, when Zimmermann dominated the Cardinals for an inning. In that game, he came out of the bullpen and struck out the side in the seventh inning.
"He was just lights-out. He was electric. He can pitch like that. He is capable of being a shutdown starter," Werth said.
But Zimmermann himself didn't think he would have a good outing, as his bullpen session before the game was atrocious. He thought he was in for a long night, but it turned out to be one of his finest performances of the season.
"As soon as I stepped out on the mound and the first inning went on, I knew I had pretty good stuff," Zimmermann said.
Zimmermann wouldn't get any arguments from Marlins manager Mike Redmond.
"I said it early, Solano, his first at-bat, it looked like his swings were really good off him," Redmond said. "Zimmermann, you've got to give him credit. He understands the magnitude of the game for them. It's a must win. He did what a really good pitcher does, and he shut us down."
Zimmermann has a chance to become the first right-handed pitcher in franchise history to win 20 games. Surprisingly, reaching that milestone doesn't mean much to Zimmermann. He wants to see his team go to the postseason for the second straight year.
"I just want the team to win, to be honest with you," Zimmermann said. "If that means going six or seven innings of no runs and I get a no-decision, as long as we win, that's the main thing."
"I don't believe him, but OK," center fielder Denard Span said about Zimmermann not caring about reaching 20 wins. "I think 20 wins for a pitcher is like 20 home runs for a position player. A person tells you that 20 home runs is not important, they are probably not telling the truth. Twenty wins for a starting pitcher is like the standard of a good, powerful quality starting pitcher."
Marlins right-hander Jacob Turner was matching Zimmermann until the sixth, when the Nationals scored seven runs.
Werth drove in the first two runs with a double. Bryce Harper drove in Werth with a double of his own to right-center field. Two batters later, with Chris Hatcher on the mound, Wilson Ramos singled to center, scoring Harper. Anthony Rendon followed with a single to left, sending Adam LaRoche home. And two batters later, Rendon and Zimmermann came home on a triple by Denard Span.
[Turner] had a lot of movement working early in the game," Werth said. "Maybe he just ran out of gas or something. It seemed like his stuff kind of flattened out. The ball I hit was pretty flat. I didn't see much after that."
Left-hander Brad Hand was on the mound in the seventh, when the Nationals scored their eighth and final run, as Werth scored from first on a double by Ian Desmond.
Bill Ladson is a reporter for MLB.com and writes an MLBlog, All Nats All the time. He also could be found on Twitter @WashingNats. This story was not subject to the approval of Major League Baseball or its clubs.